Harold Greenberg backs 26 projects in latest round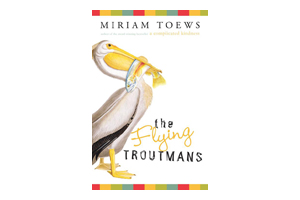 The Harold Greenberg Fund is bankrolling a second draft of the Canadian-British co-production The Outlander by Esta Spalding.
The script development fund is also backing a third draft for a screen adaptation of the Miriam Toews' novel The Flying Troutmans (pictured) by Toews and screenwriter Semi Chellas, and to be produced by Ilana Frank and Daniel Iron of Four Seasons Productions.
In all, the Harold Greenberg Fund is supporting 26 new projects in its latest round of financing from its English language program.
Besides Chellas' and Toews' script collaboration on the Canadian road trip movie, Spalding is writing a script for The Outlander, to be produced by indie producers Strada Films and Triptych Media in Canada, and UK's Xingu Films.
Other movie option projects that the industry fund is backing include Sailor Girl, a book based on the book of the same name by Sheree-Lee Olson, with a script done by Johanna Schneller for a feature film to be produced by Judy Holm and Michael McNamara.
And a script is also in the works by screenwriters Jill Girling and Lori Mather-Welch for The Journal of Mortifying Moments, from indie producers Marcon Pictures, T.L. Boulton Productions and Calder Road Films.