Making sense of transmedia at Sprockets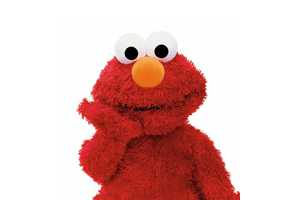 Sesame Street and Elmo get transmedia.
It's easy to get caught up in the transmedia buzz without really understanding what it means, and Richard Lachman set out to clarify its meaning on Tuesday's TIFF Sprockets industry panel.
Lachman, an assistant professor of digital media at Ryerson University, moderated a discussion called Creating Transmedia Entertainment for Children: Multi-Platform Content Meets New Media Literacy at the TIFF Bell Lightbox. He stressed that transmedia storytelling is not cross-marketing.
"Transmedia storytelling is having a single description of a world in which you can tell different aspects," said Lachman. "It's telling a story that makes sense in that medium, otherwise it's just straight marketing and doesn't serve the whole story."
He adds that kids already engage with media this way, while the industry attempts to figure out how to tell these stories.
Sara Grimes, assistant professor at the University of Toronto whose area of study is children's digital culture, reminded the attendees that while everyone's talking about transmedia, "it's been around for a while and a lot of work has been done on properties like Star Wars and Pokémon," she said.
"A lot of research has already been done that's useful and can have a lot of application, but it does need to be translated."
Jennifer Burkitt, executive in charge of Interactive Content for Children's & Youth Programming at CBC, says it's important to understand why you may develop content for a specific platform to realize when you're forcing it to fit. "If you can't add a certain element to a platform, you shouldn't be there," she said.
Panelist Matt Toner echoed her thoughts. "The challenges in working with some producers is that they're being driven into this world, but not being driven by anything relevant," said the president of Vancouver-based new media prodco Zeros 2 Heroes.
For research and industry fellow Carly Shuler, there's a real need to encourage inter-generational interaction, which she says is a core mandate for the Joan Ganz Cooney Center at Sesame Workshop.
She uses the example of bringing Tony Bennett and Elmo together on Sesame Street, which ups the co-viewing appeal. "We encourage [sharing experiences] to happen on new platforms. Developers should be very intentional and forthright when working on these projects. They should come out and say to the parents, 'Hey, play this game with your kids.'"
All panelists agreed that working with academics is also a way to tap into some valuable resources, and Toner added that working in this space is like "changing the tires on a bus while it's still moving," noting that younger producers also seem to have a firmer grasp on the digital world.