Angel investors stay put with Michael MacMillan-era GlassBox TV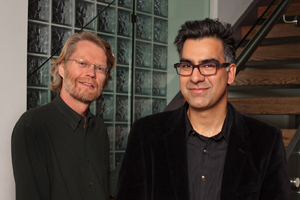 Pictured: GlassBOX Television's Michael MacMillan- (left) and Raja Khanna (right)
Michael MacMillan, who led Alliance Atlantis Communications and cashed out in 2007, has pulled in new angel investors as he takes takes control of GlassBOX Television.
And he's convinced key existing angel investors to stick around for a bigger payout down the road.
Slaight Communications, led by Gary Slaight, is staying invested in GlassBOX by converting up to stock in Blue Ant Media, which MacMillan leads as CEO.
So is JLA Ventures, which made an initial investment in GlassBOX Television in May 2008.
Former AAC executive Ted Riley remains an investor in the cross-platform broadcaster, as does former Chum Television topper Jay Switzer, who has stepped down as boardroom chair to make way for MacMillan as executive chairman.
Elsewhere, John Albright, who manages JLA Ventures, will remain in the GlassBOX board room, and be joined by new company directors Peter Sussman and Seaton McLean, both former AAC execs alongside Riley and MacMillan.
MacMillan told Playback Daily that most of GlassBOX Television's angel investors, who like him cashed out of former ventures and are busily investing in riskier start-ups with growth potential, will remain invested in the company, while institutional investors are more likely to take up the Blue Ant Media offer for an eventual controlling 75% stake.
GlassBOX Television, led by CEO Raja Khanna and president and chief strategy officer Jeffrey Elliot, runs cross-platform broadcast and VOD channels, aiming to use new technologies to find new audiences and distribution revenues.