Ratings: The Big Bang Theory pulls off a double win
The ratings winner pulls off a two-night win, as does Dancing with the Stars on CTV.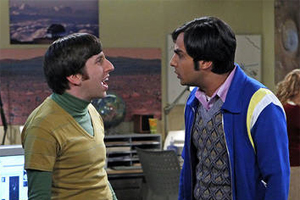 Here are the top-ranked shows in Canada (for all persons 2+; all times ET), according to BBM, for March 28 to April 3, 2011:
Monday: Dancing with the Stars at 8 p.m. on CTV sashayed into the most viewers' homes on March 28, with 2.67 million viewers to win third spot overall for the week. It just topped its performance from the week before, which brought in 2.5 million viewers.
Tuesday: Celebrity twinkle-toes phenomenon Dancing with the Stars proves it takes two winning nights to tango, bringing in 2.04 million viewers on Tuesday night. DWTS beat previous winner NCIS on GlobalTV, which won the week prior with 2.32 million viewers.
Wednesday: American Idol on CTV hit a perfect pitch Wednesday, winning the night with 2.67 million viewers, just under March 23′s 2.78 million viewers.
Thursday: The Big Bang Theory (pictured) took advantage of a change in American Idol programming to ring in a winning Thursday night and earn the title of most-watched show of the week with 3.21 million viewers. Idol also won the week prior, earning 3.03 million viewers on March 24.
Friday: CSI New York on CTV made a killing Friday, bringing in 1.90 million viewers to win the night. It upset regular Friday-night champion CTV Evening News, which won on March 25 with 1.71 million viewers.
Saturday: How 'bout that local sports team? Hockey Night in Canada Game #1 on CBC took the night with 2.16 million viewers, beating its 2.07 million viewers on March 26.
Sunday: Making it a two-night winning streak, The Big Bang Theory on CTV wins Sunday with 1.58 million viewers for its repeat episode at 8 p.m. on CTV.
From Media in Canada.