Crazy8s breeds tomorrow's filmmakers
What began as a small experiment 12 years ago with three filmmakers has evolved into one of the most anticipated film events in BC.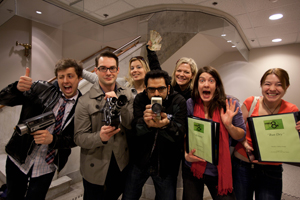 Vancouver's Crazy8s film competition has come a long way since its inception 12 years ago. What began as a small experiment with three filmmakers has evolved into one of the most anticipated events on the west coast.
The premise of the competition is simple: making a short film in eight days with $800, and the current participants and their teams can almost see the finish line — the last day of the cycle is Friday, and the completed films will be screened at the Vogue Theatre in Vancouver on April 9.
"It's become a real institution in Vancouver, and one of the most important film events in the city," Crazy8s producer Erik Paulsson tells Playback Daily. "Several participants who've been involved have gone on to successful careers in directing, producing and acting. There are a few in this mix that I feel will be pulling off big budget features in the next few years."
Among those names are Carl Bessai (Mothers and Daughters, Repeaters), Katrin Bowen (Amazon Falls) and Kaare Andrews (Altitude), to name a few.
Paulsson has been directly involved in running the competition for the last three years and has since introduced new elements, including workshops for all the participants who register — ranging from experienced filmmakers to newcomers — along with involving a number of other film professionals to dole out advice.
Participants were unveiled earlier this month and they were also part of a particularly challenging situation this year.
"We didn't anticipate how much production was going to be happening in Vancouver this year," explains Paulsson. "There's more film production happening here than ever before and we lost major equipment and sound houses as sponsors because of it."
While great news for Vancouver, it put a hindrance on Crazy8s plans. But the team pulled through and the participants are in the midst of wrapping up their eight-day production cycle.
What's next? Paulsson is looking at bringing the Crazy8s competition to other major cities across Canada and he's more than open to discussing this possibility with gung-ho producers.