The Debaters kicks off production in Vancouver
CBC Radio comedy show The Debaters was initially pitched for TV but it's finally getting the small screen treatment.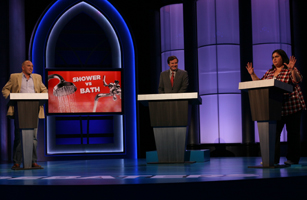 Going from radio to television isn't as hard a transition as you'd think, and in the case of CBC Radio's The Debaters, it was even easier — given that the show was initially pitched for TV.
The comedy series is entering its fifth season for radio, and the first that will see it taped concurrently with the cameras rolling for TV.
Series creator Richard Side notes that the team began part of production back in the fall and will complete the rest from March 29 to April 1 at CBC Vancouver's Studio 40.
"The format is still the same," Side tells Playback Daily, referring to both the radio and TV setup, jazzed up with a new Debaters logo to give it all a more modern look and feel. "The real challenge will be capturing the level of spontaneity with the performers on camera that comes from the debates."
He likens the set look to that of a game show, with the debaters behind podiums and host/stand-up comic Steve Patterson moving things along.
"The focus is on the audience experience," adds Side. "CBC Radio creates extremely loyal followers, so the dynamic of the comedians is important. We're taking advantage of the great pool of comedic talent in this country — this is them, just doing their material and that is what makes solid prime-time entertainment."
Comedians across Canada will be having their say, from Kids In The Hall's Scott Thompson to Sean Cullen to Elvira Kurt. Moderated by Patterson, two comics will go head-to-head on topics ranging from "Was TV better with fewer choices" to "Extinct animals – should we bring them back?" to "Bald is beautiful – well, is it?"
The Debaters is directed by Brian Roberts, who also executive produced with Side with their prodco Big Widget Productions.
Though the exact TV premiere date has yet to be determined, Side notes that the show will hit the small screen in April during the hockey playoffs.