Junos win their own award: best ever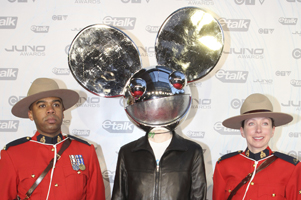 It truly outdid itself.
CTV reported late Monday night that the 2011 Juno Awards were the most-watched broadcast in the show's history, earning 2.4 million viewers according to BBM Canada overnight data.
According to the report, the broadcast's total audience was 48% higher than last year's and earned over a million viewers in key adult demos such as 25 to 54, which was up 44% to 1.03 million, and 18 to 49, which was up 42% to 1.07 million. The report also indicated that 7.6 million Canadians tuned in to at least some part of the broadcast.
The Junos were a decidedly glitzy affair this year, hosted in Toronto at the Air Canada Centre with high profile rapper Drake as host. The jokes and skits were genuinely funny, the set for the stage was impressive, and a respectably wide range of Canadian music was well represented.
Red carpet special eTalk at the Junos also fared well from the celeb quotient in attendance, earning 810,000 viewers, nearly double 2010′s broadcast, according to CTV.
Additionally, Junos organizer the Canadian Academy of Recording Arts and Sciences (CARAS) and CTV renewed their TV contract for the music awards through 2016.
CTV has aired the Junos for 10 years, and turbo-charged the awards show by taking it on the road, starting with Ottawa in 2003.
From Media in Canada