Incendies dominates Jutras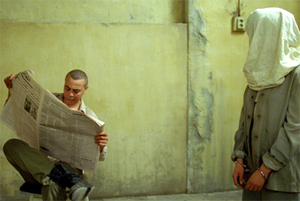 Denis Villeneuve's Incendies swept the 13 annual Jutras Awards last night, picking up nine prizes, including for best film, best direction, best screenplay and best actress for Belgian actress Lubna Azabal, who played the mother at the center of the story.
In his acceptance speech Villeneuve told the audience of 1300 gathered at Montreal's concert hall, Places des Arts, that he shouldn't have received the award.
"If it was me who made the decision, I would have given the best direction award to Robin Aubert (L'origine d'un cri). Aubert didn't receive any mention in this category."
In reference to his recent trip to Hollywood for the Oscars, where he was nominated in the Best Foreign Film category, Villeneuve said he preferred the "Quebecois Jutras to the American ones."
Incendies also picked up prizes for cinematography (Andre Turpin) and art direction for Andre-Line Beauparlant.
Incendies overshadowed a number of critically acclaimed auteur flicks including: Denis Cote's darkly comic Nordic tale Curling (NihilProductions) which was up for three awards, including for best film and best direction but was ignored by the jury.
PODZ's 10 1/2 was nominated in four major categories but only Claude Legault was recognized for his starring role as a social worker assigned to help a trouble boy living in a group home.
Sophie Deraspe's intense and at times bleak Les signes vitaux (Les Films Siamois) and Dolan's Les amours imaginares were also competing in the best picture category.
Dolan's Les amours imaginares was recognized with an award for the film which had the most success outside of Quebec.
Barney's Version won two minor Jutras, for make-up (for Oscar nominee Adrien Morot) and hair for Réjean Goderre.
Best documentary went to Pierre Falardeau by Carmen Garcia and German Gutierrez.
The awards were hosted by Yves P. Pelletier and Sylvie Moreau.