Incendies dominates Genies with eight trophies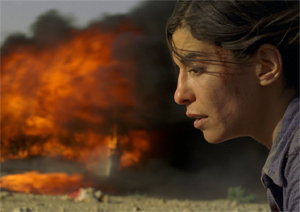 Quebec confirmed its dominance of Canadian film Thursday night after Incendies (pictured) cleaned up at the Genies, taking eight trophies, including best film and best director for Denis Villeneuve.
With four out of the five best-film nominees being produced or shot in Montreal, Canada's film awards, organized by the Academy of Canadian Cinema & Television, this year reaffirmed the strength of Quebec's film industry.
The Oscar-nominated Incendies also earned Villeneuve the best adapted screenplay award, gave Andre Turpin the best cinematography prize, while the best editing Genie went to Monique Dartonne.
Villeneuve dominated earlier Genie competitions, in 2001 with Maelstrom, and last year with his Montreal massacre movie Polytechnique, which came away with nine Genies in all.
Richard J. Lewis' Barney's Version, which earned seven Genies, dominated the acting competitions: American actor Paul Giamatti won for the best actor, fellow American Dustin Hoffman took the prize for best supporting actor, and British actress Minnie Driver grabbed the best supporting actress Genie.
All three Barney's Version stars were no shows in Ottawa due to filming commitments.
Belgium actor Lubna Azabal earned the best actress Genie for her lead role in Incendies.
Craft awards rounded out the hardware haul for Barney's Version, including the best makeup prize for Adrien Morot that eluded the Montreal artist at the recent Academy Awards.
The only other Canadian film to shine Thursday night with multiple awards was Jacob Tierney's The Trotsky, which earned the best original screenplay and best song Genies.
Other multiple Genie nominated films to go home empty-handed Thursday night included The Wild Hunt, Trigger, with best actress nominations for the late Tracy Wright and Molly Parker, Route 132 and High Life.
Last Train Home by Lixin Fan, Mila Aung-Thwin and Daniel Cross took home the Genie for best documentary.
The Genies, which aired on the CBC from Ottawa, also gave Jepthe Bastien the Claude Jutra Award for best debut feature for Sortie 67, and Resident
Evil: Afterlife the Golden Reel Award for the top-grossing Canadian film in 2010.