Ratings: More than six million tune in to the Oscars
Big Bang Theory on CTV comes in second place for the week with 3.4 million viewers.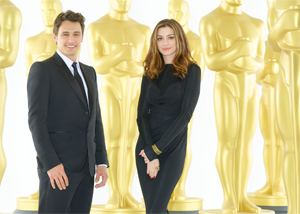 Here are the top-ranked shows in Canada (for all persons 2+; all times ET), according to BBM, for Feb. 21 to Feb. 27, 2011:
Monday: It's TV's battle of the bad boys on Monday night with Global's House at 8 p.m. and CTV's Two and a Half Men at 9 p.m. both attracting about two million viewers per week. This time, antihero Gregory House (Hugh Laurie) beats out the womanizing Charlie Harper (played by Charlie Sheen) as House attracted two million viewers compared to Two and a Half Men's 1.910 million. Men was on top the previous week with 2.405 million viewers.
Tuesday: Singing teens were no match for former rapper LL Cool J as NCIS Los Angeles on Global at 9 p.m. won the night with 1.983 million viewers. Glee came in a close second with 1.887 million, but both ousted last week's champ CTV Evening News.
Wednesday: The final 24 were narrowed down in this episode of American Idol Season 20, and the reality show brought in 2.746 million viewers at 8 p.m. It beat out last week's champ, Survivor: Redemption Island, which had 2.445 million viewers.
Thursday: Big Bang Theory on CTV at 8:30 p.m. is the most-watched show of the night for the fifth week in a row, but it is bumped from the top spot of the week by the Oscars, coming in second with 3.447 million viewers.
Friday: Blue Bloods regains its first place for the night with 1.963 million people tuning in. It bumps CSI New York, which was the winner the previous week.
Saturday: Hockey Night in Canada Game #1 on CBC at 7 p.m. was most-watched with 2.340 million viewers, up slightly in the ratings from the previous week.
Sunday: The critics panned it and James Franco may have lost a few swooning fans over his lackluster hosting of the 83rd Academy Awards, but the Oscars were a ratings hit with 6.113 million – a small increase over the previous year. The pre-show, also on CTV, attracted 2.259 million, in second place for the night.
From Media in Canada.