John Greyson accepts inaugural Alanis Obomsawin Award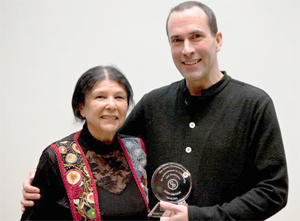 Pictured: John Greyson with Alanis Obomsawin (photo Thanh Pham).
The Montreal-based documentary screening group Cinema Politica gave its inaugural Alanis Obomsawin Award for Commitment to Community and Resistance to Toronto-based filmmaker John Greyson last week.
Greyson accepted the award after an evening of screenings of his short work, to a packed house of over 700 at Concordia University. Obomsawin was there to hand Greyson the award.
"Being recognized by this Alanis award, named for one of my great heroes of radical cinema, is such an honor," Greyson said. "Cinema Politica is the most exciting initiative in film exhibition since Vertov's Kino-Trains."
Cinema Politica co-founder and director of programming Ezra Winton said that "We chose to inaugurate this new award by giving it to one of our favorite Canadian activists and filmmakers. We created the award to not only honor the decades of important and committed work Alanis has done and continues to do, but to recognize filmmakers who follow in her footsteps.
"John Greyson has represented and worked with divergent communities struggling for justice and equality… We are proud to honor Greyson with the first ever Alanis Obomsawin Award."