Toronto Irish Film Festival fills Bell Lightbox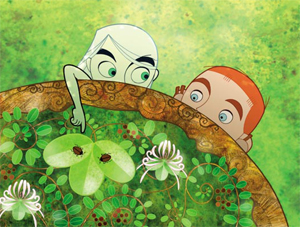 John Galway has discovered the promise of Bell Lightbox in helping upstart film festivals reach mainstream audiences.
A year ago, the co-founder of the Toronto Irish Film Festival followed a host of small film festivals by filling the Innis Town Hall cinema on the University of Toronto campus.
This Sunday, the one-day celebration of Irish cinema is moving up and into Bell Lightbox, with all the advantages the city's new magnet for world cinema brings a fledgling festival.
"Bell Lightbox is the perfect spot in terms of presentation and for film lovers already coming into the building," Galways, whose day job is president of the Harold Greenberg Fund, explained.
"We can reach into a built in audience, beyond the Irish Canadians. It's a good way to get into the film-loving crowd," he added.
Besides the next-generation digital theatres and restaurants in Bell Lightbox, TIRFF is also tapping into TIFF's online ticket selling system for ease and efficiency.
"I can't take a Visa number. This way it's set up for us, and there's one less thing we don't have to deal with," Galway said.
TIRFF is also listed in the Bell Lightbox programming guide, increasing the chances cinephiles will come across this Sunday's festival lineup, which includes the Irish documentary His and Hers and The Secret of the Kells (pictured).
Bell Lightbox has already started to bring Galway a more top-drawer crowd: the Irish ambassador to Canada, Ray Bassett, will attend Sunday.
That said, you can't have an Irish film festival without a pub.
So Hogtown's Irish community will bypass the Blackberry Lounge at Bell Lightbox and go for a pint of the black stuff at nearby Grace O'Malley's post-festival.