The rise of the web series
Web series as commonplace as traditional TV series - that's Jonas Diamond's vision for the medium.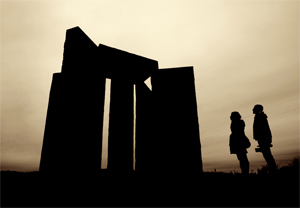 Web series as commonplace as traditional TV series – that's Jonas Diamond's vision for the medium.
Diamond and his Smiley Guy Studios/iThentic are moving full-steam ahead with the online mystery drama Guidestones, which follows a pair of university students (played by Supinder Wraich and Dan Fox) pulled into a global conspiracy.
It's an exciting time for the smaller independent prodcos who don't have to rely on traditional broadcasting to push content.
But it's more than just having another distribution platform: prodcos have the freedom to form their own release schedule while taking full advantage of the medium. In the case of Guidestones, it's turning the viewers into sleuths.
Throughout the series, clues are planted to give viewers the option of delving deeper into the story. If the protagonist sees a license plate in one episode, for example, the audience will be encouraged to plug the number into a search engine and that will unlock a clue to the next ep.
"It's a way for audiences to leap ahead rather than just passive viewing," Diamond tells Playback Daily from the Toronto set. "But they won't be missing anything if they decide not to do it."
Eps also don't have to go up the same day and time each week, and that freedom to control when and how to release content is also an advantage for indies – if characters reference an event that will happen at 9 p.m., viewers will be informed that the next ep will be available at that exact time.
"The turnaround is so quick and the immediacy is exciting," says producer Lisa Baylin of coproducer iThentic. "You can edit a trailer before moving to the next location to film."
"Frankly, this is the way the industry is going," states Diamond, who noted that Guidestones director and co-creator Jay Ferguson of 3 o'clock.tv came to Smiley Guy looking for work in web series and take advantage of online narratives.
Guidestones has been filmed in Toronto, Georgia (US) and Dehli, India, giving it a global feel so that it doesn't feel like "just a Canadian show shot in Toronto," says Diamond.
The series, partly funded by the Independent Production Fund, premieres on Heavy.com platform as well as Rogers' Shorts in the City this spring, and has also signed a number of brand integration deals.