YourIndieFilm.com launches round two of $5,000 shorts contest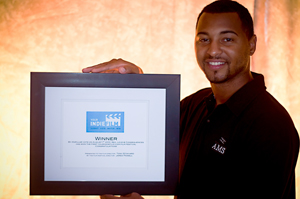 Pictured: 2010 Your Indie Film winner Tony Stinyard.
It may only be the second film festival for YourIndieFilm.com, but the Canuck pair behind the scenes have brought key industry players on board to determine who will take home the $5,000 cash prize.
The judging panel includes CMPA chairman Tom Cox, Stephanie Rockmann-Portier of Distribution360 and filmmaker Sean Garrity.
"It's about legitimizing the site and putting together a panel of people who have an understanding of the business," YourIndieFilm.com co-founder Paul Christie tells Playback Daily about the self-financed fest.
"We also wanted to prove you can do things creatively that doesn't involve a huge amount of money," he added.
Before the films reach the judging panel, YourIndieFilm.com's 5,000 users will narrow the field down to 10, and those finalists will be determined based on popular vote, so word-of-mouth and social networking can go a long way. And as the users are appealing for votes, they're spreading the word about the fest.
Christie and his co-founding partner Jared Powell also turned to online submissions system Withoutabox, a division of IMDb/Amazon.com, aimed at film fests and competitions. It also allows them to extend their reach to other filmmakers across the globe who've signed up for the service.
The voting period opened last month and will run until April 1, and filmmakers are encouraged to submit their works. Powell says the most popular genres on the site are drama and comedy, with a large number of films coming from the US, UK and then Canada.
But the entries also boast international representation, with number of films also from Europe and Middle East.
For more information, head over to //www.yourindiefilm.com.