Invading Racoon Nation takes months of trial and error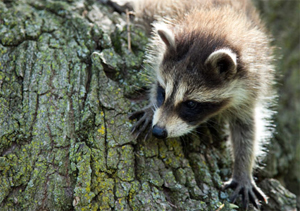 When indie filmmaker Susan Fleming and cameraman Nick de Pencier set out to reveal the hidden world of raccoons, their immediate problem was shooting a documentary about animals that only move about in pitch darkness.
The solution was using high-definition, infrared cameras to produce far more than sharper images.
"It was gorgeous. You have a clear image," Fleming said of digital cameras that turned darkness into daylight and the mystery that surrounds urban scavengers into Raccoon Nation, to debut on the CBC's Nature of Things on February 24.
"We didn't want that green military surveillance thing" associated with night vision goggles and other light-amplifying technology, Fleming explained.
And the cinematography on Raccoon Nation wasn't just about capturing nocturnal animals on the prowl.
"We're trying to capture a look for the film," Fleming added.
So six months of field testing was required before Fleming and her team settled on a digital camera combination that included use of the Sony 900 HD, Red in 4K and Canon 5D cameras converted to infrared with Bosch infrared lights.
Suddenly, the documentary crew had the camera and lighting flexibility to capture wily raccoons that mostly hide in city backyards by day before venturing out to feed at night.
The result also has viewers believing Fleming and her crew captured raccoons on-the-go, when instead they mostly used mounted cameras in remote locations, including high up in trees, to snag the nature footage.
An example was when cameras rolled on baby raccoons slipping from their natal den down a tree.
"That's 60 feet in the air, and it's pitch dark in a thick forest," Fleming recalled.
The crew erected metal ladders to erect a lateral pod in the tree, on which they set up tripods and waited for days for a raccoon sighting.
"The thing about a nature film is it's all about getting natural behavior. You don't want to manipulate behavior," Fleming said.
The resulting footage has a mother raccoon coming down the tree first, and then coaxing her young to follow without being scared or noticed.
Having completed a 2009 documentary on crows for the CBC before Raccoon Nation, Fleming's next project is a documentary about coyotes to complete a trilogy on city animals.
Raccoon Nation will air February 24 at 8 pm on the CBC's main network and on March 3 at 10 pm on the CBC News Network.