Corus buys Power Rangers Samurai for Nickelodeon Canada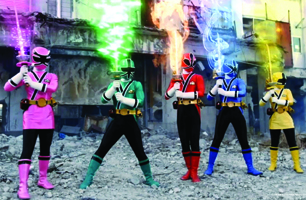 The Mighty Morphin Power Rangers last battled the CRTC in the early 1990s, and lost. Now they're back.
Corus Entertainment has picked up the new live-action series Power Rangers Samurai from international distributor MarVista Entertainment, and plans a February 11 bow on its Nickelodeon Canada channel.
Nickelodeon is also set to air Samurai, with new Rangers characters and villains, in the US market this month.
Having picked up the Canadian cable rights to the Power Rangers franchise, Corus, along with Teletoon co-owner Astral Media, will also air episodes of the classic 1990s series on Teletoon Retro and start airing Power Rangers Samurai on Teletoon's French-language channel later this spring. Both outlets are co-owned by Astral Media.