GE, Loblaw sign on to Top Chef Canada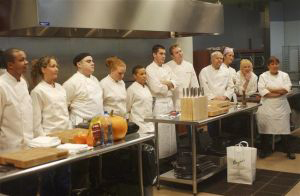 GE Monogram and Loblaw Companies will be playing sous chefs this April as official sponsors of new Food Network Canada series Top Chef Canada.
Shaw Media announced this morning that both brands will be featured as official sponsors of the show in deals that include product and brand integrations as well as on-air and online advertising.
GE Monogram has signed on as the show's official appliance supplier, in a deal that will see the company's premium line of appliances featured in the Top Chef Canada kitchen in all 13 episodes. A custom Monogram kitchen worth $30,000 is also up for grabs as part of the show's grand prize. The brand will be promoted on-air via tagged promos, billboards and bumpers on the channel and will feature Top Chef promotional clips in selected retail locations carrying Monogram products.
Loblaw will be featured throughout the run of the show as the series' official grocer and an online presenting sponsor, with creative featuring the tagline "The Home of President's Choice." Throughout the series, the contestants will shop for the ingredients for their culinary challenge at a Loblaw location. The brand will also be promoted in tagged promos, billboards and bumpers on Food Network Canada and online as the presenting sponsor of the Top Chef Canada pages on Foodnetwork.ca.
Top Chef Canada is a spinoff of the popular American version of the series, which is in its eighth season on Bravo in the US.
From Media in Canada.