Vanilla Ice helps renovate DIY Network Canada's schedule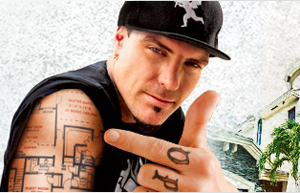 DIY Network Canada is launching its winter schedule with three new shows, including one starring Vanilla Ice (pictured), and a free preview through February available to 6.2 million viewers.
The Vanilla Ice Project, which will air Sundays at 8 pm, starting Feb. 13, follows the early-1990s rap superstar as he and his posse renovate a 7,000-square-foot house one room at a time. Ever since making it with his hit "Ice Ice Baby" and then quickly disappearing from the music charts, Ice has reportedly focused his efforts on becoming a home reno expert.
Disaster House, on Thursdays at 9 pm, starting Feb. 3, is a show in which host Josh Temple destroys houses on purpose, just so he can repair them.
Temple doesn't wait for the typical wear and tear of family life, either. In one episode, he brings in an elephant to help clog a toilet, and in another he hosts a roller derby game in a living room.
On Thursdays at 9:30 pm, starting Feb. 3, Run My Renovation will show what happens when homeowners redecorate rooms based on the votes of an online audience.
The channel will also be airing new episodes of returning shows 10 Grand In Your Hand, BATHtastic!, Cool Tools, Desperate Landscapes, House Crashers, Kitchen Impossible, Man Caves, Renovation Realities, Rock Solid and Sweat Equity.
From Media in Canada.