Seville optimistic about Barney's Version as release opens up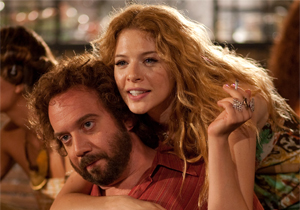 Seville Pictures is justifiably optimistic as it widens the Canadian release of Barney's Version, the film based on Montreal writer Mordecai Richler's book of the same name. Since its Dec. 24 launch, the Robert Lantos flick has already pulled in $472,892 from only seven locations.
"It's an upscale movie aimed at an older audience. We wanted to release it slowly and it's paying off," the president of Seville Pictures, David Reckziegel told Playback Daily. "The box office hasn't really declined much since it was released."
The distributor, who is adding 35 locations across the country Jan. 14, believes Barney's Version will be one of the top grossing English Canadian films of 2011.
"The film is doing well in the suburbs. We are just behind the King's Speech. That's a good place to be," says Reckziegel.
Even French-speaking Quebecers are turning out to see the film; there was a 34% increase in box office sales at the film's only French theater, the Quartier Latin in downtown Montreal, says Reckziegel. "French Canadians are interested. It's shot in Montreal."
Seville is forking out big bucks – $2 million – to market the film, which has been a Lantos pet project since the producer purchased the rights to the book more than a dozen years ago.
Barney's Version is the story of Barney Panofsky, a neurotic, self-pitying Jewish Montreal TV producer with a chaotic personal life. Richler was to write the screenplay, but fell ill and died. Lantos and Richler also collaborated on the film version of Richler's Joshua Then and Now.
Directed by Richard Lewis, the film stars Dustin Hoffman and Paul Giamatti (Sideways), who recently picked up a Golden Globe nomination for his role as the frequently drunk but lovable Barney.
Reckziegel says he's relying on word-of-mouth, the publicity generated by the Golden Globe nomination and the film's premiere at TIFF, as well as TV ads to get bums in seats.
"It's romance with great actors. It's not a straight-out comedy, but we laugh. Who can't relate to that."