iThentic weaves brands into Guidestones world
The prodco's interactive web series will feature product integrations with Samsung and Major League Baseball.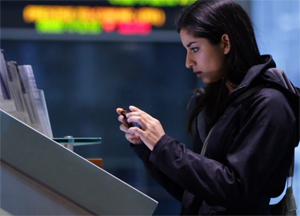 Promising to draw viewers into a world of global conspiracy and intrigue, Canadian online prodco and distribution company iThentic has started principal photography on its new interactive web series Guidestones.
The series, slated for 40 episodes in its first season, follows two university students involved in a mystery that takes them around the world in pursuit of the truth.
Based partly in reality (via real people and events) and partly in fiction via its plot, the series is designed to have a Da Vinci Code-like appeal for audiences, said series co-producer Jay Ferguson in a release.
"Our hope is that audiences will experience Guidestones as a layered conspiracy like Da Vinci Code, but where they can participate as more active sleuths in the unfolding of the mystery."
Set to premiere this spring, Guidestones will be distributed in three ways: on its own website, Guidestones.org (not yet live), via Heavy.com and on Rogers' VOD series Shorts in the City. It is being co-produced by 3 o'clock.tv.
The show's mixture of reality and fiction made it an ideal vehicle to bring to brands interested in integration opportunities, says series co-producer Lisa Baylin. So far, iThentic has signed integration deals with Samsung and Major League Baseball (on behalf of the Toronto Blue Jays).
Samsung Fascinate phones and Galaxy Tab computers will be used in the series, a particularly apt integration given the characters' reliance on technology to help them in their quest to find clues, Baylin explains.
"It made perfect sense for them to come on board. It's a great example of branded entertainment in a really natural way: [the characters] need to use a phone, they need to receive information, so they do that with the Samsung technology."
MLB's partnership was also key, because an element of the plotline revolves around a father-son relationship and baseball, she continues. Bringing the Toronto Blue Jays on as a brand partner not only allowed it to happen with a real-world approach, but provided both an authentic plot vehicle for the brand as well.
"We wanted to have as many real world locations and references as possible," she says. "It was really key to get them on board, as the character wears the [MLB] clothing and that kind of thing." It was also the first time MLB had signed on for a series that was to appear on the web first, she says, as opposed to a television show that was carried over to the web after broadcast.
Promotion of the show will be shared between Heavy, Rogers and iThentic – plans which are still in development – but an innovative "push" strategy will be used to help develop peer-to-peer sharing of the episodes.
"Essentially, you'll be able to share Guidestones as a gift," Baylin explains. Viewers will be able to share any episode they choose with friends – despite where it is in its online broadcast schedule – and for each time they share, additional exclusive content will be revealed to the sharer, she says.
"We're not building it and hoping that they will come – we're going out and trying to get them."
Guidestones will star newcomers Supinder Wraich and Dan Fox, with a supporting cast that includes David Fox (Fugitive Pieces, Heartland), Rosemary Dunsmore (Lost Girl) and Damir Andrei (Jumper).
From Media in Canada.