Brad Horvath to Ouat Media as short film distributor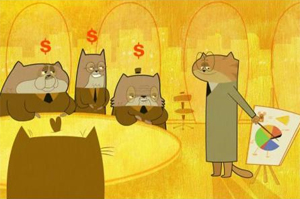 Pictured: Ouat handles an eclectic mix of content, including Cale Atkinson's Cats Can Wear Suits (2009)
Brad Horvath wants your short films.
Horvath is the new head of acquisitions at Toronto-based short film distributor Ouat Media Distribution, a division of indie broadcaster Channel Zero.
Ouat (pronounced 'what') acquires and distributes completed short films to broadcasters, Internet and mobile phone and other emerging digital media platforms.
Horvath, a veteran short film and music video producers long based in Atlantic Canada, will start viewing and acquiring shorts at the upcoming Sundance Film Festival.
"We are extremely excited to have Brad join our team," Fred Joubaud, general manager of Ouat Media, said in a statement.
"It's time to take our acquisitions group to a new level and Brad's energy, professionalism and depth of experience will allow us to do just that," he added.
The Channel Zero group includes the CHCH network in Hamilton, Metro 14 in Montreal and specialty channels Silver Screen Classics and Movieola – The Short Film Channel.