Decade in Review: Christina Jennings is Playback's Producer of the Decade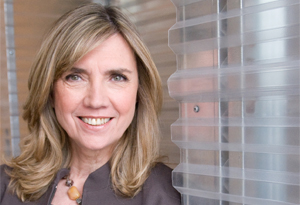 Fearless and inspiring. A big brain with the heart to match. A risk-taker who lives for a good story.
That's how those who work with Shaftesbury CEO Christina Jennings describe the woman who, over the past decade, has emerged as one of this country's most innovative and successful producers. Since 1987, Jennings has brought thousands of hours of award-winning television programs and feature films to audiences in Canada and around the world.
Despite the global recession and an increasingly fragmented and competitive media landscape, Jennings and her team have nearly tripled Shaftesbury's production and development output from $29 million in 2005 to over $80 million in 2009.
In 2000, Shaftesbury was a small enterprise with eight full-time employees; today the Toronto-based company employs 45 people and is one of Canada's largest creators and distributors of drama and kid's content for television. In fact, Shaftesbury's sales and distribution division now accounts for 25% of the company's revenue.
Most who work with Jennings believe she is rare bird: a bright light in a tough and frequently discouraging business whose unique style combines business acumen with a keen artistic sensibility and immense generosity of spirit. And of course she possesses a must-have character trait for any truly powerful producer: relentless determination.
"She's fearless, fearless, fearless. She's a dog with a bone. If she decides she wants a project made then she gets it made," says the SVP of drama and factual entertainment for Shaw Media, Christine Shipton, who worked with Jennings on The Summit (2008) a TV miniseries set on the eve of the G8 Summit which was broadcast on both CBC and Global. "Producing in this country can be a dreary life, but Christina barrels ahead and never gets down."
Indeed. The bio-terrorism drama ReGenesis (2004-2007), created by Jennings for The Movie Network and Movie Central, has sold to more than 100 countries. And before many TV producers were even tuned into the potential of the Internet, Jennings brought ReGenesis online, creating a site – Regenesis.ca – which ultimately picked up an Emmy for Best Online Companion website. Jennings' immensely popular tween show Life with Derek (2005-2007), has been broadcast in 100 markets in 10 languages and was a top 10 cable series for Disney in the US.
Shaftesbury has also adapted much Canadian literature for film and television, including the works of Margaret Atwood, Carol Shields, Mordecai Richler, Timothy Findley, Morley Callaghan and the Giller prize winning book by Vincent Lam, Bloodletting & Miraculous Cures (2009). The company has also developed Maureen Jennings' novels into three Murdoch Mysteries made-for-television movies and four seasons of the series (2007-2010).
"She's so enthusiastic she can talk you into doing just about anything," says Canadian actress Wendy Crewson, who has starred in number of Jennings' productions including ReGenesis. "Whatever she's got going on she's behind 100 percent. She has been a production engine in this city. She's kept so many of us working. She knows what will sell."
Crewson first met Jennings in the early 1980s when the two worked on the low-budget thriller called Cottage Country. (Jennings has no credit on the film.) At the time Jennings was running a travel agency and a hip restaurant on Toronto's Queen Street East after having abandoned her first profession: urban planning.
Jennings wanted a new challenge and saw it in the budding film and TV writers and directors who came to eat at her restaurant. "I didn't know what I wanted to do. But these people I met were so passionate. They were creative dreamers. But what I realized is that many of them lacked a plan," recalls Jennings.
The producer has been helping content makers in this country get their projects off the ground ever since.
Jennings believes that her success is partly due to her type-A personality and to the fact that money was tight when she was growing up in Don Mills, Ontario.
"My father was a writer and my mom stayed at home. Financially it was fairly uncertain during my childhood. Early on I had to get by on my own. I learned that to succeed one always has to have a fall-back position," says the producer. "I'm always thinking ahead and trying to figure out what I have to do to take the company through the next year."
Jennings and her team just keep on planning ahead: discovering new stories, learning about new platforms and finding partners to bring content to audiences, whether it's on television, in the movie theater or on cellphones.
Under Jennings' leadership Shaftesbury has developed a nimble business model which attempts to respond to evolving technology and an economic climate where companies have to hustle – hard – to get projects off the ground.
To keep producing content Shaftesbury has developed numerous coproduction and distribution partnerships with broadcasters here and around the globe, including CTV, Canwest/Shaw Media, Disney, NBC, Fox, BBC, ITV and UKTV. And in 2008 Shaftesbury acquired Smokebomb Entertainment, an award-winning developer of original multiplatform digital content. Smokebomb and Shaftesbury have recently received support from the CMF's first round of experimental funding for the multi-platform project Big Break, which is the company's first original mobile series.
In order to boost its revenue stream, in September 2010 Shaftesbury launched a new factual production division which will produce documentary and lifestyle projects.
"It's really important to have a large development inventory, to develop lots of projects in all genres in order to be able to respond to the marketplace," says Jennings.
In order to meet the demands of a tumultuous industry Jennings relies on the creativity of a community of freelance writers, actors, directors and salaried employees. "I really have one of the best senior management teams in this country. I have vision and my team helps me realize this vision. I couldn't do what I do without them."
In 2009 Jennings received the Lionsgate/Maple Pictures Innovative Producer Award at the Banff World Television Festival, and was also honored with the PROFIT Award for Excellence in Entrepreneurship at RBC's Canadian Women's Entrepreneur Awards in 2008.
Part of her success as an entrepreneur is due to the fact that Jennings is fiercely loyal to her talent, says Shaw Media's Shipton. "She targets projects and she targets people. If you are in Christina's camp she allows you the freedom to do what you do best. It allows the creative community around her to relax a bit."
The abundance of talent around her along with her unwavering confidence has Jennings excited, rather than frightened about the future. "The business is changing. We are in the throes of massive change. Am I worried? No. Cautious, yes. The secret is to diversify. And it's also important to remember that it's all just content, whether it's a three-minute series for an iPod, or whether it's for conventional TV. It's about storytelling."
Photo: Jo-Anne McArthur