Food Net serves up six new shows
The Shaw Media channel is fight-ready with 24 Hour Restaurant Battle and Cupcake Wars leading the winter programming charge.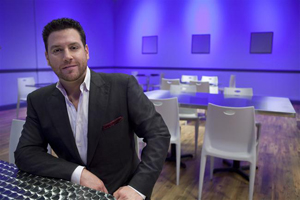 Food Network Canada is stepping up this winter with a new programming lineup pitting chefs against chefs and cooks against calories.
The Shaw Media channel's new winter programming kicks off Tuesday, Jan. 4 at 9 p.m. ET (10 p.m. PT) with 24 Hour Restaurant Battle (pictured, 13×60).
Starring New York chef Scott Conant – who has a Toronto connection in his new Scarapetta restaurant in the Thompson Hotel – the show pits teams of chefs against one another in a race to conceive, plan and open a restaurant for a one-night-only affair. Their efforts are judged by a panel of restaurant industry professionals and the winning team gets a cash prize towards opening their own business.
On the opposite end of the competition spectrum is Cupcake Wars (13×60), debuting on Food Network Canada on Thursday, Jan. 6 at 9 p.m. ET (10 p.m. PT). This US-based show features professional cupcake bakers in a battle to see who can created the most lavish decorations.
Debuting between 24 Hour and Cupcake Wars on Wednesday night, Mexican Made Easy (13×30) will premiere Jan. 5 at 5:30 p.m. ET (2:30 p.m. PT). The show promises that host Marcela Valladolid will take the mysteries of Mexican and turn them into "healthy and easy-to-prepare" meals.
For those Canadians who have perhaps indulged in too much Taco Bell and not enough home cookin', Food premieres Cook Yourself Thin (20×30) on Friday, Jan. 7 at 5:30 p.m. (2:30 p.m. PT). Based on a British series of the same name, this instructional cooking show features recipes designed to turn traditionally high-calorie meals into low-calorie fare.
And finally, Food Net hosts the North American premiere of The Delicious Miss Dahl on Sunday, Jan. 9 at 6 p.m. ET (3 p.m. PT). Starring food celeb Sophie Dahl, the six-part half-hour series follows Miss Dahl as she weaves romance and nostalgia into her recipes.
From Media in Canada.