TIFF 2010: Canada First
TIFF's Canada First program offers recognition to talented filmmakers who have leapt financial and conceptual hurdles to create appealing debut features. The six directors this year will be surprising Toronto audiences and critics with a diverse crop of first films.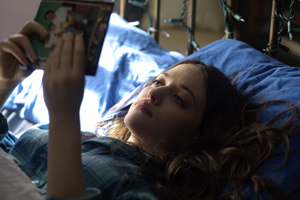 TIFF's Canada First program offers recognition to talented filmmakers who have leapt financial and conceptual hurdles to create appealing debut features. The six directors this year will be surprising Toronto audiences and critics with a diverse crop of first films.
What unites these features is the intense commitment of the filmmakers, all of whom are young auteurs, who wrote or originated the concept behind their works. Four are writer-directors – Deborah Chow (The High Cost of Living), Ryan Redford (Oliver Sherman), Mike Goldbach (Daydream Nation) and Daniel Cockburn (You Are Here) – while Patrick Demers co-wrote the script for Jaloux (Jealousy) with his actors Sophie Cadieux, Benoît Gouin, Maxime Denommée, and director Katrin Bowen got a former student Curry Hitchborn to write Amazon Falls based on stories she knows about friends in L.A.
Mike Goldbach has pride of place in the program with his Daydream Nation slated to open Canada First. The funny, personable filmmaker was the co-writer of Don McKellar's feature Child Star but wanted to branch out with something more personal this time.
"I decided to write something in my own voice, something completely different from what Don writes," recalls Goldbach. "I went back to the small town where I came from, just to hang out and see friends and old places. And I started to think that it would be interesting to write something that was a twist on the way life is usually depicted in locales like that in Canadian films."
Six years later, Goldbach had established a second home and career in L.A., when he finally found a producer, Christine Haebler, willing to "fight the good fight to get it made." Together with her partner in Vancouver, Trish Dolman, the film was finally on track. "Suddenly, I was a Toronto filmmaker, living in L.A., about to make my first feature in B.C. A strange journey."
Wanting to make a film "full of incidents and events," Goldbach wrote a leading role for the actress Kat Dennings. "I was thinking about the girls in high school who were smart and beautiful but always seemed to be getting into trouble with older guys. They didn't play by the regular high school rules. I think a lot of us go through high school thinking, 'What's that girl up to? What's going on in her head?' This movie gave me an outlet to try to answer that. People always say, "Write what you know," but I disagree with that. I think writing is about exploring and finding out things that you didn't know before."
Just as willing to take risks is Deborah Chow, who grew up in Ontario but now lives where her film High Cost of Living is set, in Montreal. "My French isn't that great," she readily admits, "but for me it would be weird to make a film in Montreal and have people speak English the entire time. I wanted Nathalie (Isabelle Blais) to be Quebecoise and French would be her language. Henry (Zach Braff) would be an outsider, an English speaker – more like me."
Although half of her crew mainly spoke French and her third lead actor, Patrick Labbé, has a difficult accent, Chow persevered. She's made a multi-cultural Quebec film, populated with Haitians and Chinese-Canadians, not just French and English speakers.
The $1.8 million dollar production scored a coup, landing Zach Braff, the star of Scrubs and Garden State as Henry, an American, who runs down a pregnant Nathalie in the street, causing her to lose her baby, and then spends the rest of the film making amends – and falling in love.
"I was very lucky to get him," admits Chow. "Zach was looking for something different. He responded to the writing even though it was very dark and arty. He was looking to do something different, to change his image. He's been wanting to do an American adaptation of the Danish Dogme film Open Hearts for years and saw the similarity in the story.
"We dirtied him up. He wasn't allowed to wash his hair for four weeks. (She laughs). We had him grow out his beard, making him really scruffy."
Chow's film depicts a break-up of a relationship between Blais' Nathalie and Labbé's Michel. Another marriage is threatened in Ryan Redford's Oliver Sherman. Like Chow's, this film isn't solely concerned with the dynamics of couples; in fact, Redford has made a drama about adjusting to life after wartime.
Sherman Oliver (Garrett Dillahunt), a veteran whose life was saved by fellow soldier Franklin Page (Donal Logue) comes to his rescuer's small town to thank him – and try to bring him back into his life. Not so pleased is Franklin's wife (Molly Parker), who wants to keep her husband, children and family life intact.
Redford resisted making the film too specific. "Certain people wanted this to be a defining contemporary Canadian war movie. And it's not. It's not political. I insisted: we don't know where we are or what war it was… It would have reduced this movie, making it lose its open-ended mythic approach."
He used his $2.5 million budget to make the film "the old fashioned way, on 35mm with accomplished actors and a veteran cinematographer." Well-respected as a writer, Redford hasn't contacted Rachel Ingalls, whose short story inspired the film.
"Adaptation only appeals to me if I can pillage it and make it my own. I'm more prone to sentiment than Rachel Ingalls is; I wanted people to feel for Sherman, so I made the story more tragic than she had. Her character was more of a cipher than mine."
The third drama about a couple in peril, the Quebec feature Jaloux, is remarkable for its use of improvisation. Director Patrick Demers worked with his leads Sophie Cadieux, Benoît Gouin and Maxime Denommée to create a tense thriller set in Quebec cottage country.
When squabbling couple Marianne (Cadieux) and Thomas (Denommée) meets Jean (Gouin), sparks fly. The audience wonders: will this mysterious stranger destroy the relationship and what is Jean really up to?
"The story was created with the actors over six months, over 12 meetings," recalls Demers. "Only small scenes were written down for the 16 day shoot. We gave ourselves the right to rework every scene.
"No dialogue was written. We dropped scenes. We changed scenes. The whole crew was "locked up" – billeted – in a nearby country house. People went to sleep thinking about the movie. And they got up and had breakfast, talking about the movie.
"We shot with a Red camera," he says, of a production that cost only $100,000 while being shot. "Every night, we'd look at the rushes and decide what was good, what should be changed and what should be reshot. We'd write the film that way. We would ask ourselves, 'Is this too obvious – can we make it more interesting?'
"Then we edited the film for a year. That's as long as it usually takes to write a scenario. The editing was [also] the writing, in a way."
Demers admits: "The thriller was my safety net. I could fall back on that to keep people's attention. It was hard to keep the plot tight. The way to hide it was to create tension so I wouldn't have to show every detail. I could let the audience use their imagination to keep the story going in their minds."
Katrin Bowen also kept to a low budget on her feature Amazon Falls. She'd been prepping a bigger budget film, a comedy, when it was suddenly shut down for financial reasons.
"I asked the crew, 'Can you guys hang tight? I've got an idea for a film and it will take two weeks to get the script together.' I offered them shares in the film if they'd agree to stay."
When most agreed, she contacted Darren Reiter, and said, "You know the $50,000 you were going to invest in my other feature – if you invest in this, you'll be the executive producer. We can make the movie for that."
With an additional $30,000 and $100,000 in-kind support from the B.C. Women in the Director's Chair fund, she was able to cobble together a 12-day shoot for a film that dramatizes the last throw of the dice for Jana (April Telek), an aging beauty queen turned B-movie actress who finds herself unemployable at the age of 40.
For a writer, "I got a six-foot, seven-inch rugby playing Republican from Reno, Curry Hitchborn, who has a great writing style, and is one of my former students," says Bowen. "I needed him because I didn't want Jana's story to be too sentimental. He typed for two weeks straight. It took three weeks to get the movie together."
Bowen based Amazon Falls on friends that she knew in her L.A. days, who "saved my life" when she was young and naïve. The film is loosely based on Lana Clarkson's story; legendary music producer Phil Spector stood trial for her death.
"At what time, should you give up?" Bowen adds "The American Dream doesn't allow you to quit."
Daniel Cockburn isn't about to quit. His conceptual mystery tale, You Are Here announces a major talent – though admittedly, an intellectual one.
Using mainly Arts Council funding, Cockburn has made a film that follows in the wake of his austere, brilliant award-winning videos.
"In a short, if it's rigorously structured, you can be almost assured that it would work. But structure is no guarantee that a full-length movie will work. It's just too complex. My script was structured so that everything had multiple meanings and was supposed to be perfectly placed for the film. But we edited for a year and a lot changed. Scenes were cut out and we swapped things around."
Cockburn's main influence isn't a filmmaker. It's the great Argentine poet, essayist and short story writer Jorge Luis Borges.
"The movie I've made is very Borgesian – the archivist, the people in their rooms. Its physicality is quite retro. But I feel that what we did is very much involved with the web and new technologies. It's quite contemporary."
Amazon Falls
Director: Katrin Bowen
Writer: Curry Hitchborn
Producer: Katrin Bowen
Executive Producer: Darren Reiter
Production company: Purple Productions
Key cast: April Telek, Anna Mae Routledge, William B. Davis, Zak Santiago, Gabrielle Rose
Daydream Nation
Director: Mike Goldbach
Writer: Mike Goldbach
Producers: Christine Haebler, Trish Dolman, Jennifer Weiss, Simone Urdl
Executive Producers: Cameron Lamb, Tim J. Brown, Sam Maydew, Aaron L. Gilbert
Production company: Screen Siren Pictures Inc./The Film Farm
Key cast: Kat Dennings, Reece Thompson, Andie MacDowell, Josh Lucas, Rachel Blanchard
Distributor: eOne Films
International sales: Joker Films Inc.
The High Cost of Living
Director:Deborah Chow
Writer: Deborah Chow
Producers: Kimberley Berlin, Susan Schneir
Executive Producers: Walter Klymkiw, Heidi Levitt
Production company: Suki Films Inc.
Key cast: Zach Braff, Isabelle Blais, Patrick Labbé
Distributor: Filmoption International
International sales: Filmoption International
Jaloux
Director: Patrick Demers
Writers: Patrick Demers, Sophie Cadieux, Maxime Denommée, Benoît Gouin
Producers: Stéphane Tanguay, Cédric Bourdeau
Production company: Productions Kinesis
Key cast: Sophie Cadieux, Benoît Gouin, Maxime Denommée
Distributor: Seville Pictures
International sales: eOne Films
Oliver Sherman
Director: Ryan Redford
Writer: Ryan Redford
Producers: Paul Stephens, Eric Jordan
Production company: The Film Works
Key cast: Garrett Dillahunt, Donal Logue, Molly Parker
Distributor: Mongrel Media
You Are Here
Director: Daniel Cockburn
Writer: Daniel Cockburn
Producers: Daniel Bekerman, Daniel Cockburn
Executive Producers: Brenda Goldstein, Matthew Stone
Production company: zeroFunction Productions
Key cast: Tracy Wright, R.D. Reid, Anand Rajaram, Nadia Litz