TIFF 2010 Gala: A Beginners Guide To Endings
Toronto director/writer Jonathan Sobol's A Beginner's Guide to Endings, featuring Harvey Keitel as an aging, exceedingly irresponsible patriarch, starts on a bit of a low note: one of the central characters commits suicide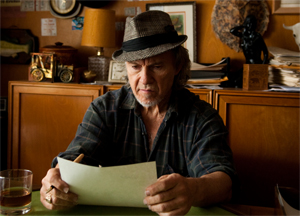 Writer/Director: Jonathan Sobol
Producer: Nicholas Tabarrok
Executive producers: Bryan Gliserman, Sean Buckley, Tim Merkel, John Kozman
Production company: Darius Films Inc.
Key cast: Harvey Keitel, Paolo Costanzo, Jason Jones, Scott Caan, J.K. Simmons
Distributor: eOne Films
International sales: Sierra Pictures
Toronto director/writer Jonathan Sobol's A Beginner's Guide to Endings, featuring Harvey Keitel as an aging, exceedingly irresponsible patriarch, starts on a bit of a low note: one of the central characters commits suicide.
"It's about three brothers who get sucker-punched by fate on what might be the last day of their lives," the 34-year-old helmer told Playback in a telephone interview from Toronto shortly before completing the color correction on A Beginner's Guide.
The film, which is Sobol's directorial debut, will have its world premiere at TIFF at a special gala screening. "Jonathan is a very talented writer and a skilled director," says the TIFF programmer responsible for Canadian films, Steve Gravestock. "A Beginners Guide is a comic view of a very screwed up family but it also has substance."
The film features Duke White (Keitel) as one of the worst on-screen fathers to come along in a while. A chronic gambler, he signed up his three eldest sons for drug tests when they were minors. His act of desperation has produced dire consequences for his offspring: they will soon die as a result of their participation in the pharmaceutical experiments.
After learning what their father has done to the three sons, womanizing Cal (Scott Caan), cautious Jacob (Paulo Costanzo), and the irresponsible Nuts (Jason Jones), return to their hometown of Niagara Falls to live out their last hours, each in their own way. Confident Cal grapples with doubt for the first time in his life as he attempts to track down an old love interest, Jacob takes risks he's never dared to before and Nuts actually starts to be self-aware. Wendy Crewson stars as Duke's first wife and J.K. Simmons plays a preacher, Uncle Pal, who tries to counsel the boys about their impending deaths.
Being selected for a TIFF gala screening is "both humbling and terrifying," says Sobol. "I would have been thrilled with any slot at TIFF."
Keitel came on board because he liked the project, says producer Nicholas Tabarrok (Darius Films) from his Los Angeles office. "Keitel was always our first choice. Who better to play a roguish, bad-assed guy in his seventies? We had no special connection to him. He read the script and we made him an offer."
Working with the veteran actor was extraordinary, says Sobol: "Directing someone who is as deeply skilled as Keitel was incredible, particularly for my first time as a director. He was very generous with his time."
The director chose to set the film in his home town of Niagara Falls, where his grandparents owned the Blue Moon Hotel, because the kitsch honeymoon spot left an indelible mark on his psyche. "The town has lots of charm. It's a perfect setting for a tall tale. It's a tourist mecca. But there is other stuff happening beyond the neon and the cotton candy."
Singled out as one of Canada's Ten to Watch by Playback magazine in 2006, Sobol is an art school grad who began writing nearly a decade ago. His first screenplay, Citizen Duane (2007), also debuted at TIFF.
Despite the film's limited budget, Sobol aimed high when he wrote the screenplay. "I went for broke in terms of size, scope and cast. I have been dreaming about directing films since I was kid. I decided to be really ambitious, which of course creates its own set of problems," says the screenwriter. "This project is definitely the hardest thing I've ever done."
Tabarrok met Sobol a decade ago when the young university grad walked into his production office looking for work. "I told him: 'If you can work for free I'll give you a job,'" recalls the producer of Defendor and Down to the Dirt. "I ended up firing the guy I was paying to be a production assistant and hiring Jonathan. He was such a hard worker."
Sobol, who wrote the screenplay for Beginner's Guide four years ago, asked Tabarrok to take on the project two years ago. Although the producer wouldn't reveal the film's budget, he describes it as a "typical indie Canadian flick." Financing was cobbled together from Telefilm Canada, Tax Credits, the Harold Greenberg Fund and some private investment.
How did they manage to attract such a stellar cast on such a tight budget?" It was a challenge," admits Tabarrok. "No one was difficult. But with such an experienced cast it's important to treat them in the way they are accustomed to being treated."
The producer also worked hard to execute Sobol's vision by "being as creative as possible," with the money available. For example, for a scene which required a major boxing match the production rented a local community hall and hired 80 extras. "A film with a larger budget would have rented a major venue and hired hundreds of people. But we dimmed the lights and moved the same 80 people around to make them look like a big crowd."
Tabarrok's goal for A Beginner's Guide at TIFF is simple: sales. "I want to sell the film internationally, to as many places as possible."