Seven inducted into Canadian Film and Television Hall of Fame
Sutherland, Candy, Carmody among those to be feted during TIFF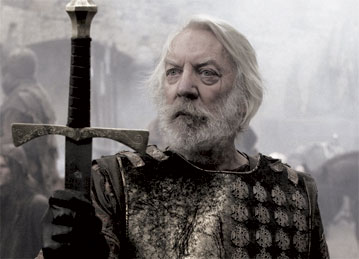 Seven industry icons, including screen legend Donald Sutherland, multiple Oscar winner Paul Haggis and beloved actor John Candy are to be inducted into Playback's fourth annual Canadian Film and Television Hall of Fame.
The awards will be presented on Sept. 13, during TIFF, at ET Canada's Festival Central Yorkville.
This year's select group of seven inductees include:
* Industry builder Paul Bronfman, chairman and CEO of Comweb Group and chairman of Toronto's Pinewood Studio
* Industry pioneer and beloved Canadian icon, John Candy
* Builder and feature film producer Don Carmody
* Oscar-winning writer, producer and director Paul Haggis
* The 'First lady of First Nations film', filmmaker Alanis Obomsawin
* Legendary actor Donald Sutherland
* World-renowned academic and broadcaster, Dr. David Suzuki
Last year, the Hall of Fame inducted a strong list of Canadian film and television creatives and thinkers, consisting of Denys Arcand, David Cronenberg, Patrick Watson, Maria Topalovich, Victor Loewy, Christopher Plummer, Ted Rogers, Norman McLaren, Ernie Coombs and Chief Dan George.
To be considered for inclusion in the Hall of Fame, inductees must adhere to these general guidelines:
* Minimum 25 years dedicated commitment to Canadian film or television
* Significant contributions to the Canadian film and TV industry or the enhancing of its reputation abroad
* Significant professional achievement in the film and TV business, either in Canada or internationally
* Have demonstrated an extraordinary commitment to establishing, developing and maintaining the highest standards of excellence in Canadian film and television
For full profiles of this year's inductees, as well as the Ten to Watch, don't miss Playback's TIFF print issue, or catch the content online at playbackonline.ca.