CW puts 18 to Life on hold
Mixed season for Canuck content Stateside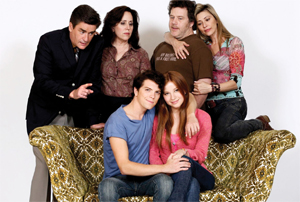 CW has pushed the pause button on the CBC sitcom 18 To Life after three weeks in U.S. primetime.
The Canadian teen marriage comedy bowed August 3 with just 988,000 viewers among adults 18 to 49 on CW. The second episode drew an even more paltry 844,000 viewers.
That 18 to Life struggled to secure viewers stateside isn't entirely surprising. CW debuted the imported series with little promotion after going from acquisition to broadcast in two weeks to bolster its summer schedule.
CW will replace 18 to Life on Tuesday nights with repeats of the family drama Life Unexpected.
Arnie Gelbart, CEO of Montreal-based Galafilm, said CW intends to air the remaining six episodes that it acquired in December, when airtime is available.
Canadians will still see 18 to Life, developed as possible ABC sitcom in 2008, in a new season on the CBC from January 2011.
Gelbart added CW retains an option for future episodes of 18 to Life.
The CBC sitcom being pulled caps off a mixed summer season for Canuck TV series stateside. Rookie Blue popped on ABC, but CBS cancelled another Canadian-made cop drama, The Bridge.
IFC on August 20 debuted another CBC series, the eight-part Kids in the Hall reunion miniseries Death Comes to Town.