The Grand Seduction
The Grand Seduction wins TIFF Film Circuit audience award
The Don McKellar-directed film won the Best Canadian Film prize, while The Lunchbox was named Best International Film. (The Grand Seduction pictured.)
Canadian cinematographers unveil awards nominees
The Grand Seduction's Douglas Koch and 12 Monkeys' David Greene are among the nominees for 58th annual Canadian Society of Cinematographers Awards.
Enemy, Orphan Black win top prizes at DGC awards
Don McKellar also won the best film direction trophy for his work on The Grand Seduction at the Directors Guild of Canada Awards, held on Saturday at The Carlu in Toronto.
2014 DGC Award nominees announced
The awards will recognize achievement across 19 categories in a ceremony to be held in Toronto on Oct. 25. (Best feature film nominee The Grand Seduction pictured)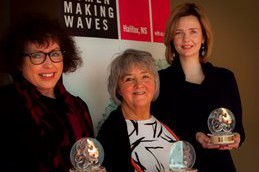 Wave Awards honour Atlantic Canada film veterans
Noreen Golfman, Barbara Doran and Linda Wood (pictured) received tributes for their contribution to the Canadian industry.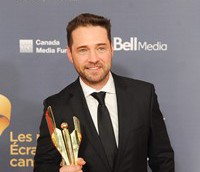 Enemy, Call Me Fitz win big at final night of 2014 CSAs
Enemy won five awards on Sunday evening, including achievement in direction for Denis Villeneuve, while Call Me Fitz took home three trophies. (Jason Priestley pictured)
eOne takes U.S. rights to The Grand Seduction
The distributor already has the Canadian and U.K. rights to the English-language remake of the film.
McKellar's Seduction to open CIFF
Following a bow at TIFF, the film heads to Halifax to open the Atlantic Film Festival before its red carpet screening in Calgary.
TIFF13: Sobol, McKellar, Chechik films to get gala treatment
Director and CEO Piers Handling and artistic director Cameron Bailey also on Tuesday morning announced the festival's opening and closing galas.
Taylor Kitsch and Brendan Gleeson topline The Grand Seduction
The $12.5 million remake of the Quebec hit Le Grand Seduction is now shooting in Newfoundland (Kitsch pictured), with Gordon Pinsent and Mary Walsh joining the ensemble cast.
Don McKellar steps in to direct English remake of The Grand Seduction
The English language version of the 2003 Quebec film will shoot this summer in Newfoundland, ahead of a national release by Alliance Vivafilm.