Slaight Family Music Lab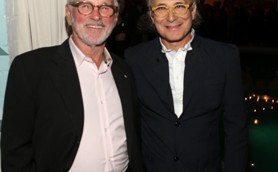 Marc Jordan on learning the film scoring craft in Hollywood
The veteran singer/songwriter has been named the new chair of the Canadian Film Centre's Slaight Family Music Lab.
Seven new musicians named to CFC Slaight Music Residency
A surge in applications for the nine-month program sparked an expansion in the number of participants selected, according to the CFC.
CFC unveils Slaight Music Residency lineup
Jeffery Morrow, Todor Kobakov, Allie Hughes and Chris Bartos will take part in the program, which aims to build Canada's onscreen musical talent.
CFC to launch Music Lab in the fall
The new initiative, which will include a music residency for composers and songwriters, will create business opportunities to increase the use of Canadian musical talent onscreen.