Sarah Polley
Karlovy Vary: Canadian filmmaking wave stirs sleepy Bohemian spa town
Talk among Canadian directors and producers attending a Canada Day dinner Monday night turned to a logjam of Canadian titles vying for plum slots at the Toronto International Film Festival in September.
NFB announces retirement of Silva Basmajian
Basmajian has edited, produced or executive produced more than 80 films during her three decades with the board.
Harold Greenberg Fund invests in 27 movie scripts
Deepa Mehta's Secret Daughter novel adaptation, Patricia Rozema's Via Dolorosa and Sarah Polley's Alias Grace adaptation are among the latest Canadian film projects getting development coin.
Weekly roundup: Festival news, nominations and TV premieres
Among other news this week, Sarah Polley's Stories We Tell (pictured) got into New York's New Directors/New Films Festival, GLAAD handed nominations to Degrassi and The L.A. Complex and Hot Docs launches a new Doc Ignite campaign.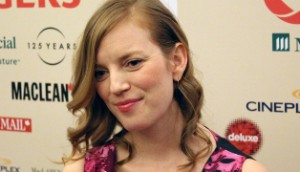 Sarah Polley on the evolution of her Stories
The Canadian director (pictured), whose Stories We Tell scooped the Toronto Film Critics Association's best Canadian film award Tuesday, discusses the challenge of making her doc debut.
Stories We Tell wins $100,000 Canadian film award
Director Sarah Polley also took home the Toronto Film Critics Association's Allan King Documentary Award at the gala event in Toronto on Tuesday night.
Industry unites in celebration of talent at Playback Hall of Fame
Media and entertainment industry vets, including Atom Egoyan and Sarah Polley (pictured), and up-and-comers came together for the annual celebration Friday.
Mars et Avril to open Festival du Nouveau Cinema
Martin Villeneuve's sci-fi fable (pictured) is one of 17 local films to screen as part of the Montreal festival's Canadian Focus sidebar.
TIFF12: The documentary wrap
Here's a wrap-up of all of the key documentary news from the event's 11 days, from the red carpets and parties, to the directors and the deal-making.
TIFF12: Stories We Tell sold to U.K., Poland, Australia, U.S.
Canadian filmmaker Sarah Polley's doc debut (pictured) has been acquired by distributors in the U.S., U.K, Australia and Poland.
TIFF12: Polley discusses "agony" of telling family story
The Canadian director (pictured) opened up about the difficulty of telling her family history, in a post-screening Q&A following the Toronto premiere of her feature doc debut Stories We Tell.
Deepa Mehta's Midnight's Children to Telluride
As the U.S. festival reveals its 2012 lineup, Sarah Polley's Stories We Tell will travel to Venice, Telluride and Toronto as it launches on the international festival circuit.