Sanctuary
Damian Kindler boards Fox's Sleepy Hollow as co-executive producer
The Sanctuary creator (pictured) will be writing scripts and produce the modern-day supernatural thriller that was picked up by Shaw Media at the Los Angeles Screenings.
Tricon sells scripted series abroad
The Toronto-based producer and distributor sold multiple seasons of sci-fi drama Sanctuary (pictured) to Italy, Romania and Qatar.
Sanctuary secures U.S. broadcast syndication deal
PPI Releasing and distributor Tricon Films & Television cleared the Canadian-shot series that ran for four seasons on Syfy in over 78% of the U.S. market.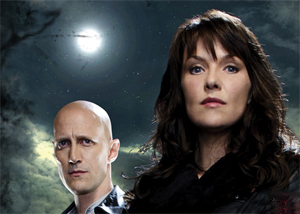 MIPCOM12: Canuck industry news roundup
Playback's editors in Cannes report on Sanctuary (pictured) getting syndication, Shaftesbury's Do-Over pact, new Peace Point Rights partnerships, DHX sales to Germany and Breakthrough's Rocket Monkeys rollout.
Distrib round-up: Sci-fi scientists and hurricane survivors
Tricon secured international sales for five series, including Sanctuary (pictured), while 9 Story's Wild Kratts sold to Germany, and eOne picked up worldwide distribution rights to Eye of the Hurricane.
Sisters & Brothers wins big at B.C.'s Leo Awards
The Carl Bessai film took home six awards, including best feature drama, while Blackstone nabbed four TV trophies, including for best dramatic series (Story updated with clarification).
Sanctuary cast, crew and fans react to cancellation
The sci-fi series about a doctor and her team of experts hunting powerful monsters, which aired on Space in Canada and Syfy stateside, could not be saved after 59 episodes.
Sanctuary leads nomination field for Leo Awards
Other multiple nominees at B.C. upcoming film and TV awards include Carl Bessai's Brothers & Sisters, a feature that garnered a dozen nods.
NBC Universal series descend on Toronto in 2012
Series like Alphas, Covert Affairs, Defiance and Suits have joined the eastward shift in Hollywood production to Ontario and Quebec.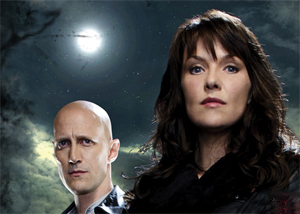 Syfy and Space renew Sanctuary for fourth season
Another 13 episodes of the Canadian sci-fi drama from My Plastic Badger Productions and The Beedie Group is set to start production in spring 2011, with a scheduled fall 2011 airdate on Syfy and Space.
CTV, A unveil mid-season schedule
CTV is kicking off its mid-season lineup with a number of series premieres and new episodes.