Michael Eklund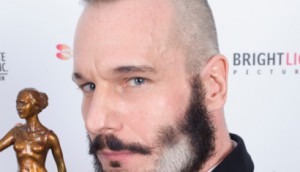 Michael Eklund, Camille Sullivan win UBCP/ACTRA Awards
Five members of the Union of British Columbia Performers, an autonomous branch of ACTRA, were honoured at an awards gala held in Vancouver Saturday. (Eklund pictured.)
Sara Canning, Ian Tracey topline Kyle Rideout's debut feature
The Canadian indie, produced by Josh Epstein, is starting production in Vancouver this week.
Why Kim Coates is tubthumping for a Ferocious opening weekend
The Sons of Anarchy star (pictured) is headed this Friday and Saturday to western Canada for premieres of Robert Cuffley's thriller, which also stars Amanda Crew and Michael Eklund.
Principal photography starts on Cruel & Unusual
The feature film is being lensed in Vancouver until Nov. 17, and is the first British Columbia shoot by the Canadian Film Centre.