Filthy Gorgeous: The Bob Guccione Story
TIFF13: Avrich eyes Penthouse with Filthy Gorgeous
Director Barry Avrich (pictured) on uncovering the life of reclusive Penthouse magazine founder Bob Guccione for his latest doc, which world premiered at the Toronto International Film Festival earlier this week.
Shaw Media-Hot Docs backs EyeSteelFilm, Filthy Gorgeous
The Shaw Media-Hot Docs Funds has issued completion grants and no-interest loans totaling $172,000 to nine documentary projects, including three from Montreal's EyeSteelFilm and Barry Avrich's upcoming Bob Guccione doc (pictured).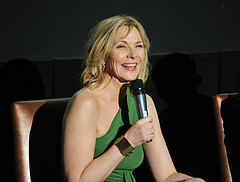 TMN, Movie Central unveil 2013 production slate
The slate features six Canadian productions, including half-hour comedy Sensitive Skin, starring Kim Cattrall (pictured) and Don McKellar, who also directs.