Corner Gas: The Movie
How Corner Gas: The Movie's releasing strategy played out
The film screened over eight days in Cineplex, Landmark and indie theatres across the country, immediately followed by a broadcast rollout.
Corner Gas: The Movie: a new release model for Canadian film?
"It's exploratory. It's bold and it's new. I hope that lots of people come to the theatres," Virginia Thompson told Playback Daily about the sitcom's film revival breaking the theatrical window.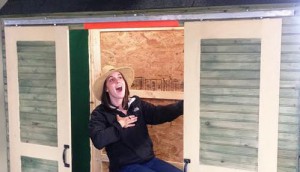 Spotted! Corner Gas' TIFF singalong
Creators of Corner Gas: The Movie are asking people to sing the show's theme song for a chance to be part of the film's upcoming release.
Book of Negroes, Corner Gas movie among Bell Fund recipients
Other productions to receive financing through the fund include Dino Hunt Canada and the children's series Chirp. (Corner Gas pictured.)
Corner Gas gets movie reboot
The big-screen reboot of the much-loved TV series will receive a multi-tiered rollout across theatrical, TV and home entertainment.