Comic Con
Con-crazy: what's next for Fan Expo
With superheroes topping the box office, attendance at comic-based events is growing. Here, Fan Expo HQ president Steve Menzie (pictured) weighs in on plans for the brand.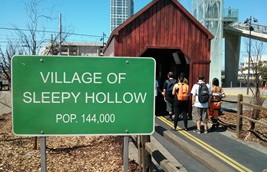 Inside the Rift: Secret Location's Sleepy time at Comic-Con
The Toronto-based digital agency unveiled its Oculus Rift experience project for Fox's Sleepy Hollow at Comic-Con in San Diego.
Dream and Zeroes launch transmedia at Comic Con
Brothers Larry and Andy Wachowski became overnight sensations in 1999 when they created a comic book to sell Warner Brothers on producing the original Matrix movie. Now Vancouver-based Dream Detective Media Properties and new media producer Zeroes 2 Heroes Media are hoping to do something similar.