Articles Tagged 'A'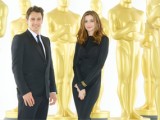 TV
James Franco's performance as host may have underwhelmed, but preliminary data shows a boost in younger viewership.

TV
CTV is kicking off its mid-season lineup with a number of series premieres and new episodes.

PEOPLE/COMPANIES
An expanded raft of CTV and A series are getting their Rogers on Demand debut, as 26 shows join the lineup

The definitive CDN broadcast and production resource.
Over 5,000 company listings!