Telefilm achieves gender parity for female producers in 2018/19
The funder did not see the same gains for female writers and directors, calling on the industry to put more women at the helm of big budget productions.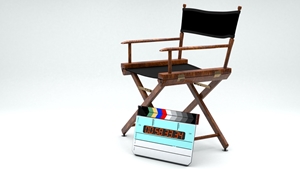 Telefilm is moving closer to its 2020 goal of gender parity thanks to an increase in productions led by female producers, according to a new report.
A total of $45.5 million was invested from Telefilm in 2018/19 in films with at least one woman in a key producing or creative role, representing 59% of the funder's production spend.
The film funder says 61% of films funded in the 2018/19 fiscal year had a woman as a lead producer, which is up from 48% the previous year. Documentaries had a large impact on the results, with 83% of docs funded by Telefilm led by a female producer, followed by 68% for Talent to Watch recipients. The only category that fell below parity was films with budgets less than $2.5 million, with 46% led by female producers. Films with budgets of more than $2.5 million fared a little better, coming in at 53%.
However, those gains weren't as strong with writers and directors, with neither reaching parity levels. The total films written by women came in at 41% while 39% of films had female directors. The only exception came in documentaries, with 52% of funded docs written and directed by women.
Films with budgets of more than $2.5 million had the lowest numbers, with just 26% directed by women, compared to 37% for films under $2.5 million. Writers fared slightly better with higher budget films, coming in at 35%, and 34% for smaller budget films. Talent to Watch was also under parity, with 45% of films penned by women writers and 43% helmed by female directors.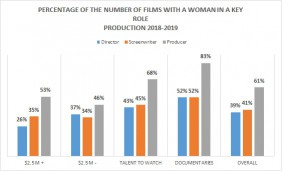 Telefilm executive director Christina Dickenson says that for the government funder to reach its 2020 goal, the industry must do the work to give female directors more opportunities to helm big budget projects. "We're already giving them a calling card by investing in their first and second features at a lower budget level," said Dickenson in a statement. "We also need our distribution partners, producers and broadcasters to join us by supporting more women in the director's chair for higher budget projects."
Telefilm released its gender parity plan in 2016, with five objectives in place to help reach gender parity in 2020, including a pronounced effort to promote female talent and an encouragement of diverse projects. A number of female-led, Telefilm-backed films that have received high-profile festival selections this year, including Semi Chellas' American Woman and Aisling Chin-Yee's The Rest of Us, which were chosen for this year's Toronto International Film Festival. The list also includes Monia Chokri's La femme de mon frère, which won the Cannes Film Festival jury's coup de coeur prize and the Soska sister's Rabid, which is set to premiere at FrightFest.
The funder also announced it will release an update to its definitions for diversity and inclusion on funding applications to allow "greater understanding of the scope of voices applying."
Image: Shutterstock