Landing the Killjoys ship smoothly
Killjoys showrunner Adam Barken (pictured, right) shares what makes Canadian sci-fi enduringly appealing to audiences and previews what's next for him.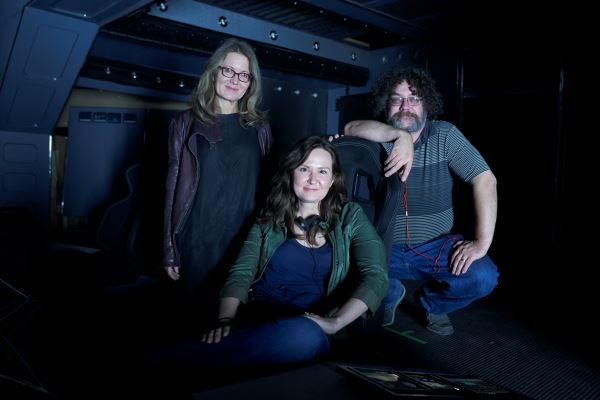 Taking the reins on any ship for its final voyage, let alone a spaceship, is a tall order for any producer. Writer Adam Barken was ready to take the challenge head on.
The Killjoys writer and executive producer was upped to showrunner heading into the sci-fi (now more commonly referred to as genre) series' fourth and penultimate season back in 2018, taking over from creator Michelle Lovretta. He previously served as a co-executive producer on Flashpoint's final season.
Leading the series, which is produced by Boat Rocker Studios-owned prodco Temple Street, presented two hurdles for Barken, as he told Playback Daily. Creatively speaking, he was charged with ensuring the series would come to a satisfying conclusion and "pay off" the story started by Lovretta. And as a producer, he would need to lead a double dose of production, as seasons four and five were shot back to back.
The tight production schedule became a boon to the series, which dealt with the age-old problem of any long-running Canadian series: having to keep up production value with a shrinking budget.
As a solution, the writers wrote multiple episodes to shoot on a single, main set to reduce the number of sets to build for season four. Barken says they pushed the concept further in season five, creating a grand set that was used to film the last six episodes of the series. As a result, producers were able to bolster the effects budget, including additional VFX work on the big final villain reveal. "We were able to execute at a level even higher than we had done before," he says.
The production strategy has worked so far, according to Barken, who notes that Killjoys' fourth season earned a record six nominations at the 2019 Canadian Screen Awards. The previous record was two nominations – best makeup and visual effects – for season one in 2016. Five of the nominations fell under craft categories, with first-time nominations in categories such as production design and art direction, as well as costume and hair. The sixth nomination was an acting nod to star Aaron Ashmore.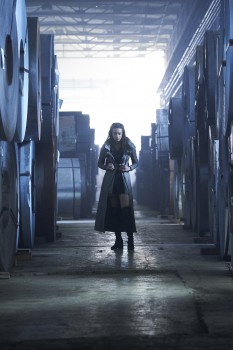 The rising profile of the series comes in parallel to the success of its star Hannah John-Kamen (pictured, left), whose credits since joining Killjoys now include Steven Spielberg's Ready Player One and as the major villain in Marvel Studios' Ant-Man and the Wasp. Her rising star has brought more international attention to the series, according to Barken, with a spike of engagement on social media. The series airs on Syfy U.K. and Syfy Australia outside of North America.
Canadian genre series have a legacy of global appeal, with past global hits including Emmy winner Orphan Black and the Lovretta-created Lost Girl. Attracting and retaining a "loyal audience" is a large market factor networks should keep note of, according to Barken, even in an uncertain market where it's safer to hold back on commissions.
With Killjoys signing off after this summer there are a few potential contenders to fill the gap, with three new genre series set for the 2019/20 linear broadcast season. Vagrant Queen, commissioned by Syfy and Citytv, eOne-produced Albedo, which will premiere later in the season on CTV, and Sinking Ship's Endlings, which will air on CBC. Returning genre series are Wynonna Earp, which is set to return to CTV Sci-Fi (formerly Space) in 2020 after production on season four was delayed, and Van Helsing, with season four set to premiere on Super Ecran in Quebec and on Netflix in the rest of the country.
The strength of Canadian genre compared to American counterparts comes down to story, according to Barken. "When we started Killjoys, there was nothing like it in the American marketplace," Barken says, noting Wynonna Earp as another Canadian series that stands out as unique. "Our audience is always most excited about something that looks different."
He notes that Netflix is gaining speed as a Canadian commissioner. Its genre commissions include Simon Barry's Warrior Nun, produced under his Reality Distortion Field banner, V-Wars, produced by High Park Entertainment, and Aaron Martin's Another Life (Halfire Entertainment), which premieres this month. The streamer has also ordered Dennis Heaton's The Order for season two, another series produced by Nomadic.
Barken is only getting started as a creator now that Killjoys is coming to a close. He has a genre series in active development with Temple Street, which he describes as different from Killjoys, but similar in the level of "fun and energy." He previously had an overall deal with the prodco, which has now ended. He is also in early development on another television project with Aircraft pictures.
Barken says he's been actively searching for producing partners. Outside of his development deal, Barken is working with director Jennifer Liao to raise funds for a feature film script. He doesn't discount launching his own shingle down the line, but Barken says that while the creative iron is hot he is happy to make himself available to Canada's "skilled and experienced" producers to bring his own visions to life. "As a creator, my job is to make stuff," he says. "I'm always looking for partners to figure out a way to do that."
Image (L-R): Karen Troubetzkoy (executive producer), Michelle Lovretta (creator, executive producer) and Adam Barken (showrunner, executive producer)