Vortex invests in new talent with Don't Click
The horror feature from first-time director G-Hey Kim is currently in production in Hamilton.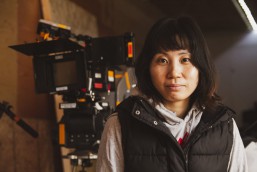 Production is underway in Hamilton on G-Hey Kim's (pictured) feature film debut Don't Click.
Produced by Vortex Words + Pictures president Bill Marks, the horror film is adapted from Kim's short film of the same name, which picked up accolades at short film festivals in Portland, L.A. and Toronto. First-time screenwriter Courtney McAllister penned the script.
Don't Click tells the story of two friends, played by Valter Skarsgård (Fun House) and Mark Koufos, who are taken by an entity who tries to control them after they visit a graphic porn site. The film also stars Catherine Howard.
Marks serves as producer, with McAllister serving as executive producer alongside George Mihalka (My Bloody Valentine) and Christopher Giroux (Bite, I'll Take Your Dead). Principal photography is set to wrap up in May.