Deals: Sinking Ship, Toon-A-Vision, Raven Banner, Portfolio
Netflix acquires a pair of Portfolio Entertainment projects, Halifax's Toon-A-Vision picks up its first anime series, Raven Banner's latest horror acquisition and more.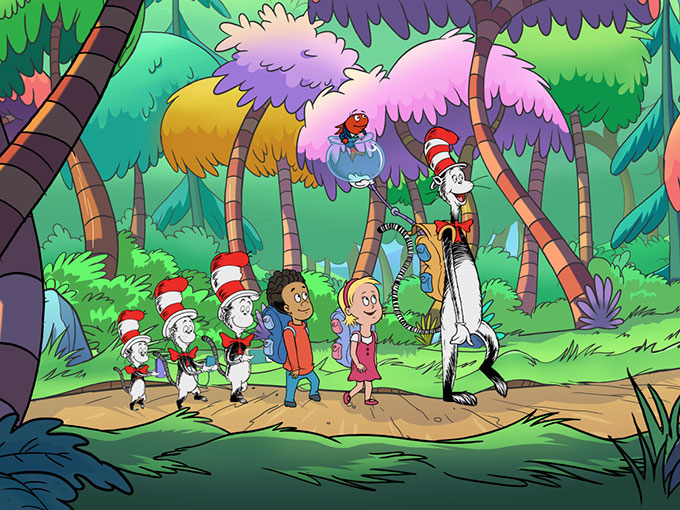 Portfolio Entertainment
Netflix has picked up up a pair of animated series from Portfolio Entertainment. The Cat In The Hat Knows A Lot About That! will stream in 135 countries worldwide, including the U.K., Italy, France, Australia, New Zealand, Spain, Portugal, the Nordics, Latin America and MENA. Meanwhile, Teletoon Canada comedy Freaktown will be available in Spain and Portugal.
Sinking Ship Entertainment
Sinking Ship Entertainment has picked up second-window TV distribution rights to Amazon kids original Just Add Magic. The distributor has already closed broadcast deals for the live-action series with Discovery Kids (Latin America), DHX's Family Channel and Groupe TVA's Yoopa, which will begin airing it this spring. Just Add Magic season two will be available through Sinking Ship in early 2020. Based on a book by Cindy Callaghan and airing on Amazon Prime internationally, the show targets kids aged six to 11 with a story arc about three friends who uncover a cookbook containing magical recipes.
Toon-A-Vision
Kids and family channel Toon-A-Vision has picked up the rights to Yu-Gi-Oh! ZEXAL from Konami Cross Media. This is the first-ever anime offering for the channel, which broadcasts to Atlantic Canada. The series follows Yuma, an aspiring card game duelist who meets Astral, another duelist from another universe. The series, which is targeted to eight- to 12-year-olds, will air weekdays at 4:30 p.m. and weekends at 9:00 a.m.
Raven Banner Entertainment
Raven Banner has picked up the Canadian distribution rights to I Trapped the Devil from U.S. sales company Yellow Veil Pictures. The horror film, written and directed by Josh Lobo, tells the story of a man who is convinced he has trapped the devil in his basement. The film will be released on April 26 to coincide with U.S. distribution, which is handled by IFC Midnight.
With files from Kidscreen