How the CFC is expanding into new revenue streams
COO Sheena Macdonald discusses how opening up its grounds to external productions has energized the Canadian Film Centre and boosted its bottom line.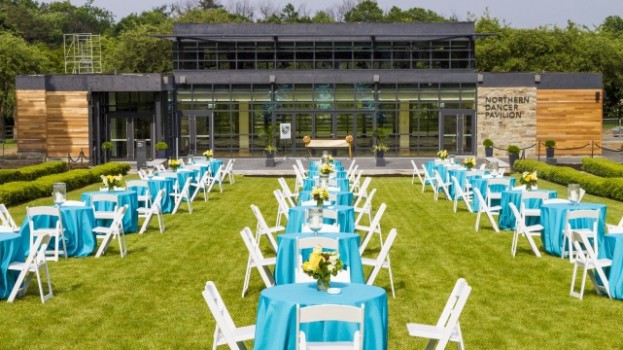 When a location scout for The Handmaid's Tale inquired about using the Canadian Film Centre's Northern Dancer Pavilion in 2016, the organization's executive team sensed an opportunity to begin making better use of the recently renovated grounds.
The Hulu original series was shooting at a property in the nearby Bridle Path and needed a lunch room for cast and crew. "The space was just perfect for it, and I said 'absolutely,'" CFC's COO Sheena Macdonald told Playback Daily.
Since then, what started as a one-off service has grown into a reliable source of new revenue as the CFC, like the rest of the industry, grapples with a fast-changing environment.
"Mergers happen, and where once you had two big corporate donors, you now have one, so it's really important to diversify. It's just a great new source of revenue as things keep getting tighter corporately," she said.
Over the past two years, the Film Centre has hosted production on the first two seasons of The Great Canadian Baking Show (CBC), as well as the new culinary series Mary's Kitchen Crush (CTV), both of which are produced by Proper Television. The former is filmed on the CFC's expansive grounds, with the production crew filming under the format's signature tent, while the latter saw Proper build a kitchen studio inside the Northern Dancer Pavilion. The pavilion has also served as a hair and makeup room for series like American Gods.
And aside from providing a visually picturesque setting, the availability of extra shooting space (especially space that has enough parking capacity to handle a large number of crew) is also a benefit to a Toronto industry that has been dealing with a consistent lack of capacity in recent years.
Most recently, the CFC has opened up its grounds up to commercial shoots, which Macdonald said have been drawn to the variety of looks that can be attained with its pavilion, green house, main house and gardens.
The arrival of new productions has energized those working on the CFC's campus, said added, but with a caveat: "As long as it doesn't detract from our core business, which is the programs we run."
Going forward, Macdonald said CFC is concluding a deal for The Great Canadian Baking Show to return for its third season, and will continue to look for other ways to use its grounds that are of mutual benefit to CFC and the industry.
"It's vital, and it's a nice win for us. It's a real help to our bottom line," she said.