CBC, Insight's Gordon Lightfoot doc to world premiere at Hot Docs
Directed by Joan Tosoni and Martha Kehoe, the project follows the career of the legendary Canadian singer-songwriter from his early years to his stadium tours.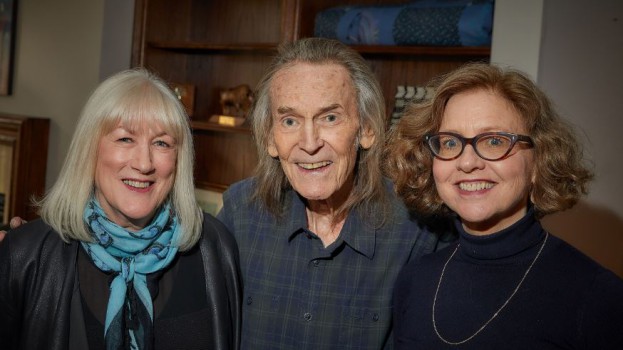 Hot Docs has added two more Canadian titles to its Special Presentations program, selecting docs highlighting musician Gordon Lightfoot and hockey trailblazer Willie O'Ree to world premiere as part of its 2019 lineup.
Directed by Joan Tosoni and Martha Kehoe, Gordon Lightfoot: If You Could Read My Mind (pictured) follows the legendary career of the Canadian singer-songwriter from his early years growing up in Orillia, ON to his stadium tours in the '70s using archival footage. The project is a CBC Docs original produced by Insight Productions in association with Slaight Communications.
Meanwhile, Willie (U.S./Canada), from director Laurence Mathieu-Leger, tells the story of O'Ree, the first Black hockey player to join the National Hockey League. Mathieu-Leger and Bryant McBride produced the feature alongside associate producer Ebyan Bihi.
Willie and Gordon Lightfoot join Canadian titles like director Phyllis Ellis' Toxic Beauty and Laurie Lynd's Killing Patient Zero, which are also set to make their world premieres in the festival's Special Presentations category. Other Canadian films unveiled last week as part of the lineup include Garry Keane and Andrew McConnell's Gaza, John Walker's Assholes: A Theory and Rachel Leah Jones and Philippe Bellaiche's Advocate.
In addition to Willie and Gordon Lightfoot, Our Godfather (U.K./Russia) will also make its world bow in the  program. Directed and produced by Andrew Meier and Mark Franchetti, the doc follows the family of a Sicilian mob boss, who comes out of hiding to tell the story of how he became the most hunted witness in U.S. criminal history.
Other new international premieres set for the section include director Erin Lee Carr's I Love You, Now Die: The Commonwealth vs. Michelle Carter (U.S.); Stanley Nelson's Miles Davis: Birth of the Cool (U.S./U.K.); Ryan White's Ask Dr. Ruth (U.S.); Don Argott and Sheena Joyce's Framing John Delorean (U.S.); director Steven Bognar and Julia Reichert's American Factory (U.S.); Ian Cheney and Martha Shane's Picture Character (U.S.); and director Johnny Sweet's Quiet Storm: The Ron Artest Story (U.S.).
Newly announced Canadian premieres include Nanfu Wang and Jialing Zhang's One Child Nation (U.S.), Mads Brugger's Cold Case Hammarskjold (Denmark/Norway/Sweden/Belgium), Richard Lowenstein's Mystify: Michael Hutchence (Australia) and Henrik Georgsson's Stieg Larsson: The Man Who Played with Fire (Sweden). In addition, artist Ai Weiwei's The Rest also joins the program, set to make its North American premiere at Hot Docs'19.
The Hot Docs International Film Festival runs from April 25 to May 5, 2019.