No Equal Entertainment options WWW series
Wynonna Earp and Lost Girl writer Shelley Scarrow will adapt Robert J. Sawyer's sci-fi novels for TV.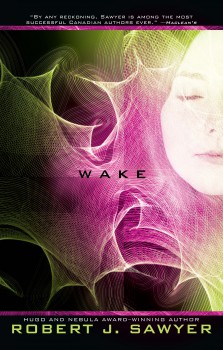 Toronto's No Equal Entertainment has optioned the rights to Robert J. Sawyer's sci-fi series WWW to adapt into a TV series.
Published by Penguin Random House, the trilogy consists of Wake (2009, pictured), Watch (2011) and Wonder (2012) and follows the adventures of Caitlin Decter, a young blind woman who regains her sight via a signal-processing implant. When her implant is activated, she's able to see the internet spread out around her. All three of Sawyer's WWW novels have won the Aurora Award's title of best novel, which honours the best in Canadian science fiction and fantasy.
Most recently, the adaptation received development support from the Bell Fund's Slate Development Program and the CMF's Export Pilot Program.
Writer/producer Shelley Scarrow will adapt the series for J.B. Sugar's No Equal Entertainment and write the show's pilot. In addition to her work on sci-fi series like Wynonna Earp, Lost Girl, V-Wars and Being Erica, Scarrow's writing credits also include Total Drama Presents: The Ridonculous Race and Degrassi: The Next Generation.
No Equal Entertainment's past adaptations include the TV series JPod for CBC, the supernatural series Bitten for Space and SYFY and the TV movie A Separate Peace. Last year, the prodco announced it was developing an hour-long drama series called Mezcalero, based on T.E. Wilson's Detective Sanchez novels, and that it had optioned the rights to Douglas Coupland's 2007 novel The Gum Thief for a feature film.