How Canada's costume designers earned the gala treatment
A decade after its formation, the Canadian Alliance of Film & Television Costume Arts & Design will holds its first annual awards this weekend.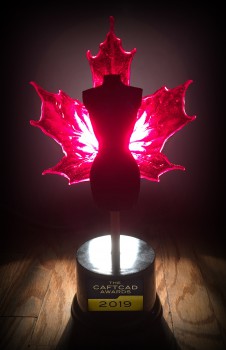 When the Canadian Alliance of Film & Television Costume Arts & Design (CAFTCAD) formed around a decade ago, it did so in recognition of the fact that the local design industry had reached a level whereby foreigners didn't have to be flown in to do the work.
Fast forward to 2019 and the organization and its members are ready for its first awards, set to take place Sunday, Feb. 10 at the Aga Khan Museum in Toronto. By comparison, the Costume Designers Guild of America formed in 1953 and held its first annual awards in 1999.
The CAFTCAD Awards will recognize Canadian costume designers across 13 categories including web series, low-budget film, period TV, contemporary TV and sci-fi. Nominees need to either be Canadian citizens or permanent residents and costumes must have been primarily created and built in Canada.
Cynthia Amsden, co-chair of the awards, told Playback Daily that while CAFCAD formed a decade ago, establishing a formal awards ceremony to recognize Canada's costume designers has become significantly more viable following the international success of visually distinct projects such as The Shape of Water, Schitt's Creek, Blade Runner 2049 and The Strain.
"No one knows the name of Canadian costume designers but they sure as hell know the work they've been doing, and they've been watching it for years now," said Amsden. "It's viable now because the work is being recognized abroad. It's time to pay attention to it inside the country."
As well, added Amsden, the local community has been calling for a bespoke awards for a number of years, as other annual awards are too narrow to recognize the breadth of roles within the field.
Nominees in the Best Costume Design in Low Budget Feature are Trouble in the Garden, Honey Bee, Sgawaay K'uuna ("The Edge of the Knife"), The New Romantic and Adventures in Public School, while nominees in the contemporary TV category are Bad Blood, The Exorcist, Schitt's Creek, Riverdale and Siren.
This inaugural awards ceremony will also see costume designer Delphine White, who has worked on projects including David Cronenberg's Fast Company, Scanners and Videodrome, being presented with the Industry Icon Award.
Elsewhere nominees in the web series category are The Amazing Gayl Pile, Chateau Laurier, Haunters: The Musical, Miss Persona and Terrific Women (pictured), and nods in the period TV category went to Caught, The Bletchley Circle: San Francisco, Murdoch Mysteries, Frontier and Anne with an E.