How Canada's LGBTQ+ population consumes media
A new study argues that LGBTQ+ representation isn't just healthy for communities, it's healthy for brands.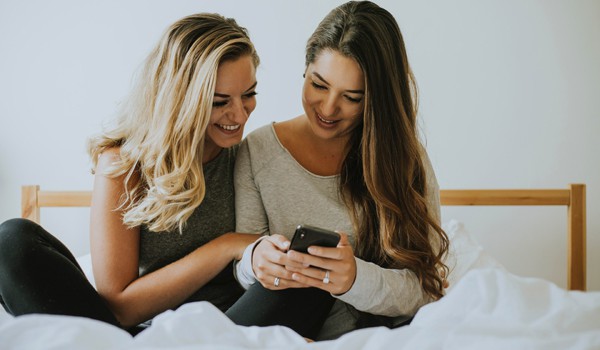 Last year, Detective Rosa Diaz of Brooklyn Nine-Nine came out to her parents – and fans – as bisexual. In December, Ryan Murphy's Pose made history as the first TV show with a mostly trans cast (the drama stars five trans women of colour in regular roles) to receive a Golden Globe nomination. And earlier this month, the Netflix series Sex Education, which features numerous teen characters of varying sexual orientations – including an openly gay character who enjoys cross-dressing – was met with critical acclaim.
While LGBTQ+ representation in media has come a long way, a new study by Mindshare Canada shows that it could be much better. And, according to Mindshare, the demographic can't be ignored, both because of its purchasing power and its media consumption.
For the current television season, 8.8% of all scripted characters have been identified as LGBTQ+, an increase of 2.4% from the year prior. According to Mindshare, this is record growth. But not all representation is equal; gay men have nearly twice the representation of lesbians (64% of characters in inclusive media programs are gay, versus 36% who are lesbians), while bisexuals are even fewer (14%). While trans characters still have the least representation on scripted television, growth in the area has been noteworthy; there were 26 trans characters on TV in 2018 versus only nine in 2017.
The biggest desire among LGBTQ+ people surveyed is for less stereotypical representation (69% of survey respondents want this); 66% want more diversity among LGBTQ+ characters; 61% want more diversity in their relationships and 54% want more diversity in gender identity. Just under half (44%) of LGBTQ+ people feel the representations they see are fair, but the amount of people who feel they are represented poorly is still significant, at 39%.
Some of the concerns cited include tropes such as "Bury Your Gays," which commonly sees lesbian and bisexual characters killed on TV (in 2016, 25 queer female characters died during the TV season, and gay women were killed five times more than other characters on TV). Just this year, a gay character was killed off within 30 seconds of his introduction in Doctor Who. Respondents also expressed concern about "Queerbaiting," which pulls in LGBTQ+ viewers with the promise of representation only to have the characters end up dead or unhappy.
Despite lower representation, LGBTQ+ people tend to over-index on media consumption overall. Their TV consumption – an average of 20 hours per week – is on par with Canada's general population. The same goes for radio consumption, at 10 hours per week. But the real key to reaching LGBTQ+ people may very well be in new media.
LGBTQ+ people consume an average of three more hours of digital media per week (27 hours total) than the general population. They also spend an average of three hours more on mobile (19 hours) and three hours more on social (17 hours). Specifically, they over-index on Netflix (89% of LGBTQ+ stream on Netflix, compared to 85% of the general population).
Messaging is also more popular among LGBTQ+ people, with 87% regularly using messenger apps (compared to 81% of the general population).
While the social impacts of inclusion are crucial, Mindshare's study also indicates that there are practical, economic reasons for more inclusive programming. The purchasing power of LGBTQ+ people can't be denied.
The demographic spends 53% of their dollars on grocery stores, above the national average. They also over-index on health and beauty purchases, spending twice as much in the category as the general population. Another – perhaps surprising – category where LGBTQ+ people have more purchasing power is the pet category. They spend 28% more in pet stores and 29% more on pet supplies than the national average.
Mindshare cited a recent case study from its client Cottonelle (owned by Kimberly Clark), which activated on dating apps and Facebook during Toronto's annual Pride week. With its themed activations on social and chat, Cottonelle served 649,773 impressions and generated a 40% engagement rate (17 seconds average time spent). These figures were 10 times the averages for other consumer goods campaigns, according to Mindshare.
From Media in Canada
Image: Pexel