New drone regulations could have major impact on domestic filming
Transport Canada's new regulations for drone operators, to be implemented this summer, are causing concern in the industry.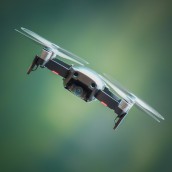 Last week Transportation Minister Marc Garneau introduced new drone safety regulations that could have significant ramifications for the domestic film and TV industry.
As of June 1, 2019, drone pilots will require a licence to operate, issued in one of two categories: basic or advanced. For example, under Transport Canada's new guidelines, flying a drone in a controlled airspace, above production cast and crew or within 30 metres of bystanders would count as advanced operations.
As a result of this change, drone pilots will need to meet stricter safety regulations within both new categories, requiring pilots to register their drones (and mark their equipment with a registration number); pass an online exam; stay below 122 metres above ground; and avoid air traffic.
Playback Daily spoke with a number of drone operators working in the film and TV industry, all of which said the new regulations will impact their business operations and domestic filming.
One of the concerns highlighted by operators was the Remotely Piloted Aircraft Systems (RPAS) safety requirements, which are part of the new regulations. These safety measures require pilots who want to complete advanced operations like operating in controlled airspaces or flying near and over people, to only use aircrafts that have been declared acceptable for these flights by manufacturers.
This could potentially be problematic for operators, notes Stefan Marchand, a drone operations specialist at Toronto-based DroneBoy. "In the event manufacturers decide it is not worth their while to pursue this certification, drone operators could be in a situation of not having the ability to offer drone services to the TV and film industry for shoots that take place in controlled airspace areas," said Marchand, who points to Montreal, Toronto and Vancouver as examples.
Transport Canada's website lists some drone models approved for flying in controlled airspaces and near people. However, currently, none of these models listed are acceptable to fly over people.
"A drone may be approved for some advanced operations but not others," said Transport Canada's section explaining safety assurances. "For example, a drone may be allowed to operate less than 30 metres (100 feet) from bystanders but not over them. Meeting the RPAS Safety Assurance for one advanced operation does not make the drone fit for all of them."
Patrick St-Arnaud, president of Montreal's Drone Studio, says he thinks that none of the models with safety assurances on the list will be able to carry the kind of heavy camera equipment he often needs. "So I have a $50,000 investment [in two drones that can carry a 20-pound payload each] and now this is not going to be certifiable I don't think, from what I've seen so far," he said.
Another issue, according to St-Arnaud, is a potential delay in the kind of commitments he can make due to Transport Canada's Special Flight Operations Certificate (SFOC). Under the new rules, operators will be required to apply for this certificate if they need to change specific parameters, like flying a heavier drone or flying at an advertised event. St-Arnaud says the use of this special approval, which requires 30 working days for Transport Canada to sign off on, ensures that he can only make commitments to some film and event productions well in advance.
Until the new operations come into place this June, pilots using their drones for work or research must continue to follow the conditions of their current SFOC, while recreational users must have an Interim Order Respecting the Use of Model Aircraft.
Image: Unsplash from Jonathan Lampel