Lofty Sky strikes U.S. distribution deal for culinary docuseries
Confucius Was a Foodie sees chef Christine Cushing travel through Asia as she explores Chinese culture and cuisine.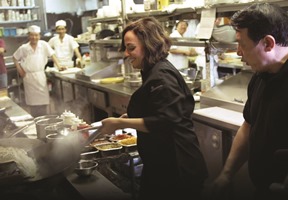 Confucius Was a Foodie (8 x 60 minutes) will air on PBS stations in the U.S. this January via a deal struck between producer Lofty Sky Entertainment and American Public Television (APT).
Hosted by Canadian celebrity chef Christine Cushing, the one-hour docuseries follows her travels in Asia as she learns about local Chinese culture through cuisine.
Produced by Toronto's Lofty Sky Entertainment, the culinary show was greenlit by not-for-profit broadcaster New Tang Dynasty Television Canada (NTD Canada) in 2014. Confucius Was a Foodie previously scored international distribution in Asia, Africa, and the Middle East through Nat Geo People in 2016.
Theresa Kowall-Shipp, who also writes and directs the series, co-created the show, while Lofty Sky CEO Jason Loftus serves as producer. Kowall-Shipp and Cushing previously teamed up for Recipe to Riches and all four seasons of Christine Cushing Live.