MIPCOM: Can Facebook launch a new genre?
Bunim/Murray's The Real World is being relaunched as a Facebook-exclusive format and series, customized for the Watch platform.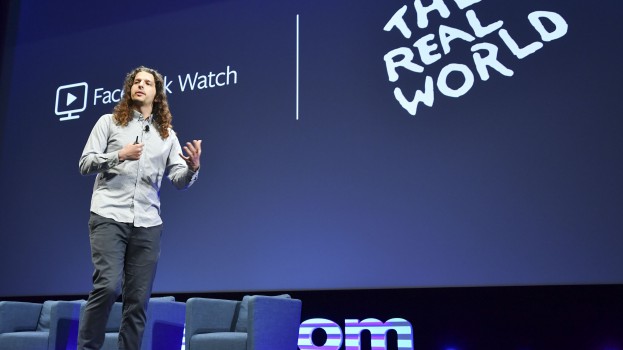 For anyone who was a teenager in the '90s, The Real World was a genuine part of the social fabric, a crazy series out of the U.S. featuring racy, "grown-up" topics and a new breed of real-people celebs.
With that now old hat, MTV is looking to break ground with a genre its president Chris McCarthy is calling "shared reality TV," a Facebook-only international revamp of iconic reality TV brand The Real World, announced today at MIPCOM.
"From a volume perspective, there's probably not a need for new content," he said, "so we have to create that need."
It was an interesting perspective from a senior network executive, most of whom talk primarily about competing on content quality and availability. McCarthy noted that, unlike more conventional brands, MTV's young target demo means that the channel has to "blow ourselves up" at the arrival of each new generation.
The Real World has the potential to be a promising experiment, featuring new "drops" (Facebook lingo) every day and "broadcasts" built to utilize Facebook's new Watch Party functionality, which allows group conversation alongside live video. The series will be produced by U.S. indie Bunim/Murray individually for three markets: the U.S., Mexico and Thailand.
For MTV, the opportunity is one for the channel to gain/create a new audience that may not be involved in its other platforms, McCarthy said, and also a new way to use the Real World brand/IP. His comments dovetailed with a Tuesday presentation in which Viacom Digital Studios head Kelly Day repeatedly emphasized the value of Viacom's desire to experiment in the space, stressing that while business models are still murky, "in the end brands and IP win."
On the revenue side, Matthew Henick (pictured), Facebook's head of content planning and strategy, further illustrated a point that Facebook made last year in its MIPCOM address, which is that the platform sees the primary opportunity for Watch content to come from creators or third parties. "Just to be clear, anyone in this room can start posting to Facebook Watch and start supplementing their revenue stream," he said.
When the platform does fund content, he said, the goal will be for that content to "be the best example" of the new Watch engagement pillars: Watch Party, Premieres (the ability to "eventize" taped content in a live Facebook context) and Groups.
It has been noted in media reports that Facebook may be struggling to attract viewers to its Watch vertical, and as a result, its original programming to date. However, The Real World brings to the table a level of brand recognition it hasn't yet tapped for its platform-exclusive programming and content creators should keep an eye on how it performs.
Another area of interest for broadcasters or producers looking to exploit existing IP was outlined by Henick: game shows relaunched in Facebook with new interactive elements. "We found that playing with your friends is not just a gimmick," he noted, and that it increased time spent on the platform. Facebook is rolling out its first foray into the space, Confetti, internationally so Canadians will be able to check that out soon.
Photo: Yann Coatsaliou