DHX, Mattel get Polly in broadcasters' pockets
The companies announced the sale of the kids animated property to 16 broadcasters internationally.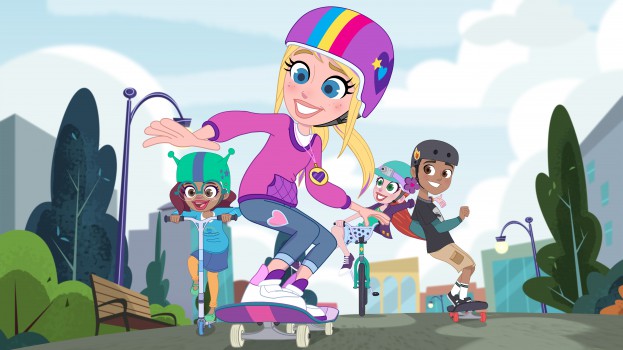 Continuing to build on a deal first inked in 2015, DHX and toy brand Mattel have announced the sale of Polly Pocket to 16 broadcasters internationally.
Announced during MIPCOM, the series will start rolling out internationally in 2018 and into 2019, following its premiere in Canada this summer. The animated series (26 x 22 minutes) targets kids aged 6 to 9 and is produced at DHX Media's Vancouver studio.
Polly Pocket, along with Bob the Builder, is part of a pact DHX made with Mattel in 2015 to codevelop, produce and distribute content based on Mattel IP. Bob and another Mattel property, Fireman Sam, went on to successful launches in the years since. Polly is based on a classic late '80s/early '90s toy of miniaturized dolls and carrying-case homes.
Mattel relaunched Polly Pocket toys earlier this year.
Broadcasters set to air the series include: Sony Pictures Television's POP channel (U.K.); RTL Telekids (Netherlands); Kidzone TV (Baltics); Lagardère's Gulli and TiJi (France), Gulli AFRICA (22 African French-speaking countries) and Gulli Girl (Russia); teleTOON+ (Poland); AMC Minimax (Eastern Europe); vtmkzoom (Belgium); Canal Panda (Portugal); Turner (Italy, Middle East, Turkey and Greece); Star Channel (Greece); kidZ (Israel); SABC (South Africa); and Discovery Kids (Latin America).
The Mattel deal has been a bright spot for DHX as the company has undergone significant reorganization and a shift it its strategic goals. The company said it plans to prioritize the Mattel deal and IP associated with it, along with a push on lower-budget properties through its Wild Brain division.