MIPCOM: Scaling up with the Global Creative Alliance
Fourteen producer organizations sign an MOU in Cannes to help their memberships compete in an increasingly consolidated landscape.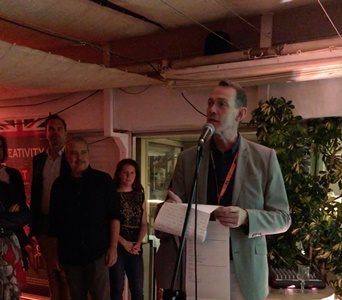 CANNES – A party on the Croisette in Cannes is a welcome respite from anyone's work week, but the mood was particularly buoyant in one beachside pavilion, as 14 producer organizations celebrated the launch of the Global Creative Alliance (GCA).
Including Canada's CMPA, the GCA also includes the U.K.'s PACT and trade bodies from Australia, Belgium, Brazil, Canada, Croatia, France, India, Italy, New Zealand, Portugal, Singapore, South Korea and the U.S.
The Cannes event saw representatives from each of the organizations sign a Memorandum of Understanding (or, non-binding agreement) to share information, insights and connections to foster international partnerships, as well as the use of a digital platform created by PACT where producers can share and pitch project details.
The goal is to help independent producers access partnerships that can give them scale and competitiveness in the global market, said Marguerite Pigott, VP, outreach and strategic initiatives, CMPA, in an interview with Playback.
"[With] bigger companies buying smaller companies throughout the world, we're seeing that scale is necessary in order to compete," she said. "Small production companies aren't necessarily wanting to enter into those deals or they may not be offered those deals, but they still need scale. So they need partnerships that can get them to [a point] where the two partners are bigger than the sum of their parts."
A key element of the partnership will be the Producer Platform, which PACT has been running for a couple of years, says Pigott. There are Canadians currently using it, but the CMPA will now be actively promoting it to its membership, alongside the other organizations, to create a robust networking marketplace.
Overall, says Piggott, the agreement is designed to give indies a leg up in a business that is vertically integrating at a rapid pace.
"What all [independent producers] are looking for is that connection to build scale and we hope this will give them that connection," she said.
Pictured: John McVay, chief executive, PACT, at the MOU signing ceremony